Cast: Arshad Warsi, Boman Irani, Saurabh Shukla, Amrita Rao Directed by: Subhash Kapoor [highlight]Overall Rating: 3/5[/highlight][divider]
Bollywood's dipping its beak in the satirical pool frequently now, and the sarcasm regarding the shortcomings in Indian judiciary system that Subhash Kapoor packs in Jolly LLB caters to a serious issue in a very ludic way.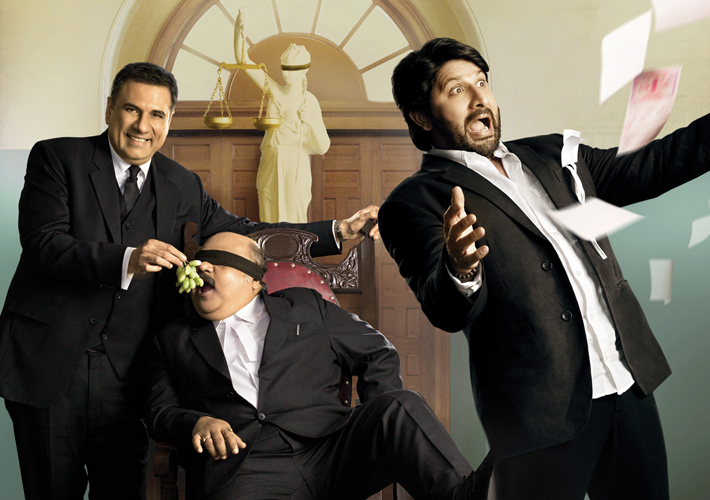 The script revolves around Jagdish 'Jolly' Tyagi (Arshad Warsi), who's irritated with his career growth and in order to set that straight moves to Delhi, where is only support is his girlfriend Sandhya (Amrita Rao). With PIL (public-interest litigation) and media attention being his instant recipe to fame, he reopens a hit-and-run case that included a rich brat Rahul Dewan crushing some poor bones to death under his Land Rover, and in the process locks horns with the shrewd celebrity advocate Teinder Rajpal (Boman Irani). And Rajpal does carry along with him a reputation of playing foul- fairly. How Jolly fights corruption forms the remainder of the story.
Arshad Warsi has enacted the goody-heart man who attempts bending his morals to make a big jump in the career ladder pretty well. But the transition to morality is too abrupt. Also Boman, as the sly and corrupt Rajpal is a treat to watch, and its the chemistry that these two actors share that adds to the flavor of the plot. Saurabh Shukla as the eccentric Judge Tripathi is a complete delight! It's his impromptu courtroom outbursts that ripple a laughathon (as in when he threatens to hurl his paperweight at the people involved in lawsuits, and even the scene where he searches for his gavel during an ongoing session).
The movie does qualify as a satire, and even boasts some really good moments, yet somehow it fails to do total justice to the genre. The extra baggage of morality that the film carries weighs down the satirical punch, rounding it off as just a decent watch. This film had potential to be so much more.
 Section-wise rating below: