I usually participate quite less in discussions. Less, because I'm not very enlightened in most of the matters, and even more, because I hate discussing things with people who've got absolutely no knowledge of the thing-being-discussed themselves. The passivity in me remained constant when the folks here started discussing Lootera, and how it is a dull, boring and extremely over-streched film.  film. I listened quietly to all there utterance about the movie, while they cracked distasteful jokes regarding Sonakshi's "sighs" in the movie. I listened quietly, until the eyes turned on me asking for my opinion. And I knew it was best to shut up and maintain being passive for just another minute, but the bubble burst up and out came- I loved it.
"Why?" was the most obvious question they threw at me, followed by "You're just trying to be obnoxious. Even you know you hated it." Another cheap joke was cracked. Everyone laughed, including me.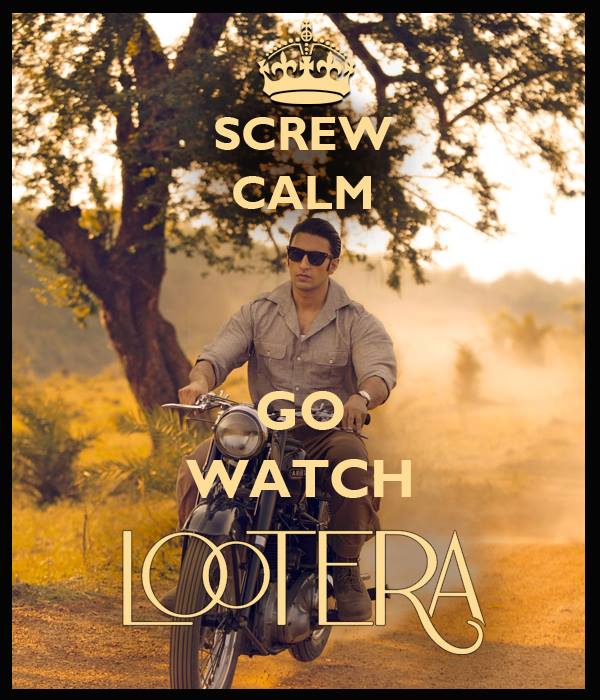 Now again I should've sat still having laughed, and I even did for a few seconds, before my defense mechanism popped up into action, spewing out whatever random thought it could process. "Ok, first of all, the craft. The totality of the directorial and cinematographic awesomeness that was sketched out was brilliant. You saw the way they played with the lighting right? Of course you did! Then, you see how the tree was projected? How beautifully its several phases were captured- from full-leaved to naked with just one last leaf? Screw the tree. Now remember the first time you went and talked to a girl? Remember the excitement, the nervousness? Now did you notice how beautifully Sonakshi managed those two expressions with a hue of naughtiness when she first talks to Ranveer? Aah! How well it sets up the mood. It's all about how you absorb the emotions and how you connect yourself with the scenes, you know. Now maybe the post-Independence suspension of the Zamindari system portions may seem irrelevant for a romantic theme of the movie, but the Zamindar's shock over his dethrone and over the cheat that Ranveer is has been beautifully conveyed, and lays the emotional foundation of the film. There were many people in my cinema-hall who were babbling and laughing over how incredibly stupid or long stretched this film is, and there were people who were ignoring those very babbles to escape into this romanticized tale. Maybe like me, even they loved the poetic tinge given to the movie- a guy who just cannot draw leaves on canvas, paints the most realistic of leaves when it comes to offering hope to his lady love at a time when she needs it the most; or is it not love, but just his will to create the greatest masterpiece that drives him to make those leaves? Sonakshi's smile when she discovers the fake leaf makes us believe that it's the former- a gesture of love. The melodrama was maintained subtly till the very end. And man, whatay haunting music! Remember the background score's that's in play while Ranveer climbs up the tree to stick the leaf? Isn't it a total bliss? Apart from that particular track, compare all the tracks to any music, all have the potential to get featured in a Hollywood movie, you see. It's the grandness of this all that made me love this film. There are movies in which you'd want to indulge, at least once, this film belongs with them. The emotions, the drama, the cinematography, the music, the direction, the magnificence and the immersive magic in everything is what made me fall in love with Lootera, and invest my patience in this movie that it so rightfully deserved."
Then came- "All your points are ok, agreeable to some extent, but the film was too slow yaar. And if you liked this for grandness, why do you hate Shahrukh's Devdas."
"Umm..I never said I hated Devdas, it's just that I don't like it as much. I didin't connect to it. As for slow..," I seriously fumbled at finding the right phrase to complete that sentence. Having emphasized on the patience, drama and the word 'emotion' repeatedly, I didn't know what else to add that'd strengthen my 'argument'. I simply shrugged away and left it at that, while they quickly changed the topic and started making weekend plans for Bhaag Milkha Bhaag.