Too much of masala in a single dish. That's what most Tamil-flick sequels (and a whole lot of Bollywood sequels) do actually, though I expected a lot from this Hari-Suriya combo. I won't say they disappointed, 'cos they didn't, but they definitely did not live up to the Lion-promise with Singam 2.
The second installment in the Singam franchise kicks off from where the earlier film concluded. It's 6-months off the radar for Duraisingam (Suriya), who following the Home Minister's appeal serves as an NCC instructor in a town school where Hansika studies. But he soon returns as an undercover agent to take charge in order to expose a dangerous drug-smuggling criminal network. He sets up 'Operation D' to lock horns with an international drug dealer in this flick. There are three major villains he has got to decimate- Rahman, Mukesh Rishi and Daniel Sapani. While the plot is well thought of, it has been poorly executed. The rushed scenes simply take the charm away from this film. The first half is intriguing, but the second half totally drags a heavy predictability.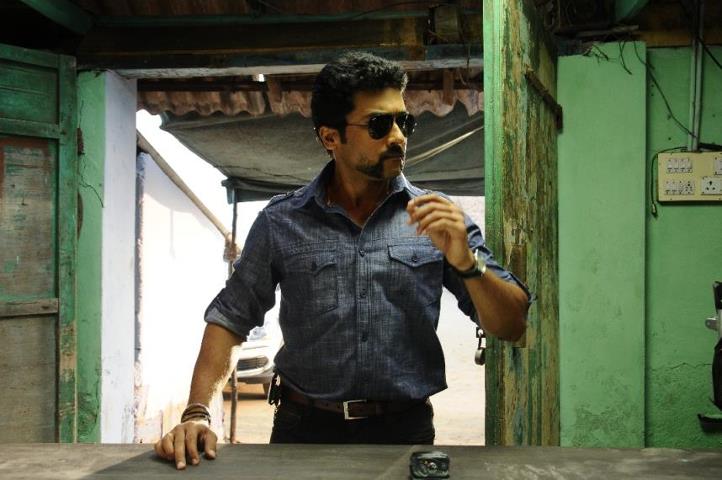 Performance wise, Suriya vows his complete allegiance to this movie, and delivers extreme intensity and aggression in both his dialogues and action sequences. The toughest cop is back in charge, and he makes his entry roaring big. This guy has totally lived his role. Hansika enjoys a slightly better portion of the acting cake than Anushka, but both of them have got piddling to contribute. International actor Daniel fails to present a horrifying aura of the villain. The comedians Vivek and Santhanam do a decent job, with the latter scoring more points over the former with his Robot and Vishwaroopam gimmicks, but the comic sequences were unwanted anyways. Director Hari had a quite clear vision on how he wanted this film to be- racy! And a racy ride he does offer, with an elephant-sized content fitted into just 2.5 hours. And it's in these time limitations and the super-fast changing frames that the side-actors do not get to individually shine in their respective performances. Still, more was expected from the director who's churned out memorable cop movies in the past including Singam and Saamy (remade as Policegiri in Hindi which coincidentally releases today).
Technically though, this film is a total win. Editing is crisp, though it doesn't ensure smooth transitions between scenes. And the camerawork is exceptional, and the three copter-cams employed do a great job of enhancing the visual pleasures. Devi Shri Prasad's music is average, though the background scores do stand out.
All in all, this film offers no novelty over its prequel, and would've been wonderful had a few unwanted scenes from the film had got chopped off, giving more screen time to the actual premise.
3/5