The marathi film industry, which has received quite an encouraging applause for movies like 'Shwaas' and 'Natrang' from a global audience, now has another reason to cheer, thanks to Mahesh Limaye's debut film 'Yellow'. Mahesh Limaye, the man recognized for his work as the cinematographer for super-hit Bollywood flicks such as Fashion and Dabaang, has directed the movie 'Yellow' with Gauri Gadgil as the lead. Playing the character of a child suffering from the Down Syndrome, Gauri Gadgil has portrayed her role beautifully. The stars of the story include some of the industry's brilliant performers. Mrunal Kulkarni as Gauri's mother and Manoj Joshi as Gauri's father – both stand out in their individual performances essaying the emotions of disappointment, anger as well as optimism and hope as the parent's of a down syndrome affected child.  We definitely recommend this movie for all parents out there who have at least once asked one of these questions to themselves – 'What happens to my child after me?' "Will my child ever become independent?" and "Will he/she be able to compete?"
Coming to the story – Abandoned by her father, Gauri goes on to live with her uncle (Hrishikesh Joshi) with her mother. Unknown to the world, Gauri enjoys her fairy tale-like world in her mind as she silently grasps her surroundings – its ways and its rules. The film proceeds into showing Gauri's interest in swimming and her love towards water. In comes – Upendra Limaye who acts the role of her coach and starts training her for National Swimming Championships.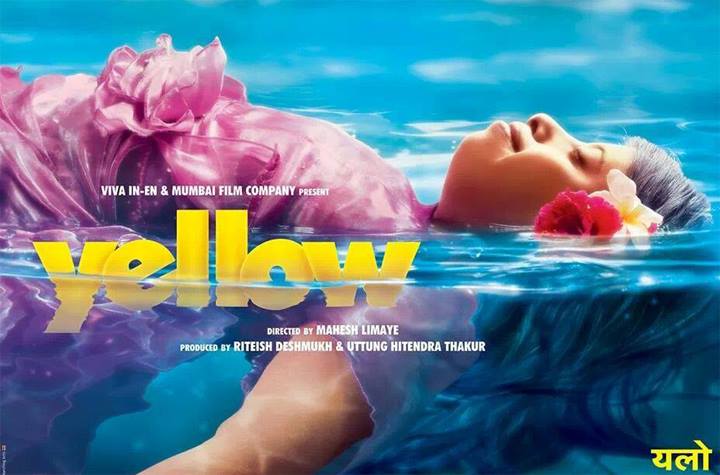 [pullquote position="right"] There is nothing to lose when you are at the rock bottom.  [/pullquote]Other than the mind-blowing acting done by all the actors in the movie, what really stands out is the way the movie is handled. No where will you find the protagonist craving for sympathy or the story shying away from reality. Another striking feature of the film is its music. The songs by music composer Kaushal Inamdar are worth a pat-on-the-back and play their part well in complementing the flow of the story and embark the journey of Gauri's success really well. Finally, to know why the movie is titled 'Yellow', we believe there's no point in spilling the beans. When you figure it out at the movie's end, you will be left with goosebumps for sure. The message that the movie leaves you with is an inspiring one – "There is nothing to lose when you are at the rock bottom."
Produced by Riteish Deshmukh (Mumbai Film Company) & Uttung Hitendra Thakur (Viva InEn), we believe 'Yellow' is a must-watch film for parents as well as children.
Overall Rating: 4/5
Do check out the trailer if you already haven't –