Heavily inspired by the autobiography of struggling 50's village era folk musician Dave Van Ronk's The Mayor of MacDougal Street, it tells the story of Llewyn Davis. He is shown performing at New York's local nightclubs (irregularly) and then subsequently and (definitely regularly) crashing at some acquaintance's couch.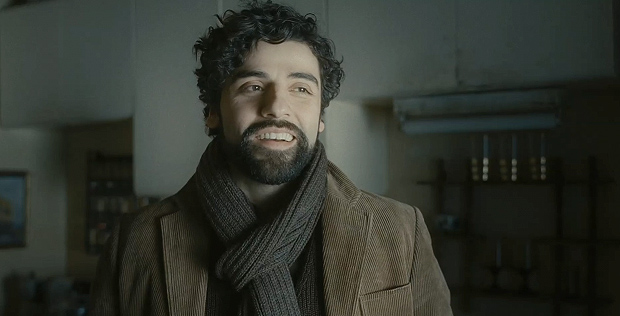 Story:
In all honesty, I had terribly misunderstood the plot from its trailers. And I was expecting an indie-styled, emotionally cinematic recreation of an immensely talented musician who finally gets his break after muscling through life's pressures and hence emerging big. I'm sorry…but there is hardly a plot here per se. So in case you were expecting the opposite, then you too might feel cheated and half-empty at the end of the movie. It's just a story of 1 week in the Davis' life where people  are introduced either through his profession or while travelling. He's shown deeply brooding for the suicide of his bandmate -Mike who succumbed to the pressure of sustaining in the music biz. And he knows that's the way he himself is slowly yet inevitably moving toward. Many a times we, as an audience,have been led by the storytellers to root for the central characters. But not entirely in this case. Davis is shown to have done quite a few mistakes in the past, just like average American might. Bad with money matters, issues with friends, dysfunctional family ties, even sleeping around with women and getting them a couple of times. So why bother watching the movie at all,you'd say? It shows us that in real life there are no fancy endings and miraculous recoveries and that too with audacious background score. It's LIFE, and one has got to deal with it.
Sure there is music, very soulful music too, but only when it fits the bill.
To fully appreciate the movie, one needs to know a couple of the things beforehand:- firstly the changing music scene during the 1950-60 period in the US where jazz was slowly paving way for folk music and primitive pop amongst in a pre-Bob Dylan-New York. Secondly, a basic background of the Coen Brothers and the type of films they deliver. The second point will immediately highlight a fact that the "typical start-middle-ending theme where a film needs to come full circle with all the things and characters in it" was never their forte. They have always tried to keep the pace, feel and sentiments of their story as visceral and organic as possible.
Direction and Acting:
This latest offering from Coen Brothers had created quite a stir when it opened in the Cannes Film Festival last year. More so because of the huge fan base that they have accumulated over the past decades. And yes awards haven't eluded them either. Be it the No Country for Old Men, True Grit, Burn After Reading etc. , the movies are gritty in their own unique ways. All have to do with some specific part of Unites States at some point in time showing how an American mind truly works. The scene where he travels from New York to Chicago to appear for an audition call from a music label is a memorable one. The music representative says "You're good.. but I'm sorry I don't see a lot of money in it". Same goes for the live performance of Timberlake and Isaac with Adam Driver's antics in the during the recording of Please Mr. Kennedy and not to mention when Davis' visits his ailing dad and sings to him his favorite song.
There always have been a slot for individual award nominations in their films. Which is why they retain a couple of old pals in them. John Goodman here is an example. Sad to see the exclusion of Joel Coen's wife and the lead actress in most of their films Frances McDormand along with John Turturro and Jeff Bridges. Oscar Isaac, is his first role as a lead protagonist, is very convincing in the title role nevertheless. It's great to see actors themselves perform live for a film when they have played music in their personal lives at some point. Same goes for the Justin Timberlake who is in the movie playing Jim, guitarist and husband to Carey Mulligan's Jean who gets pregnant accidentally with Davis' child.
The Buzz:
As stated earlier, the awards ceremonies will commence starting this month in the US and UK later in Feb. Isaac will be going in for the kill as he matches up with 2013's finest. Rest assured, even if you are not a fan of American folk music, the sounds in the movie are great and immensely useful in pitching Davis' story of helplessness and quiet frustrations of not making it big ever. Their melody indeed is the best part of the film.
Overall Rating: 3.25/5
It's a slow film with no promising and jaw dropping ending but it's life as we know it.