The buildup to last year's Wrestlemania 31 was shockingly uninspired and disappointing, the worst I had experienced in my decade or so as a wrestling fan. I had low expectations going into the show, but was pleasantly surprised by a top-to-bottom strong showing, capped off by Seth Rollins' historic heist of the WWE World Heavyweight Championship in the main event. Most fans shared my opinion.
A year later, we found ourselves in a similar position. Wrestlemania 32 was around the corner. The build had been uninspired and disappointing, but this was no longer shocking. WWE has been in an alarming creative decline over the last two years, and as if that weren't enough, a slew of top wrestlers were ruled out with injuries in the months leading up to the event. This Mania was going to be a stinker; we had known it for months. But could we be in for a repeat of last year? With expectations hovering near rock-bottom, maybe all WWE had to do was ensure that the matches were solid and throw in a clever twist or two, and maybe we'd be surprised again. Could they pull off a rescue act two years in a row?
I am sorry to report that they could not.
To give WWE credit, they tried. The show got off to a terrific start with Zack Ryder capturing the Intercontinental Championship in the opening ladder match. For the last five years, Ryder has been used as mere fodder not just for the stars and the upper midcard, but the lower midcard as well. He probably wouldn't even have been in the IC title match if Neville hadn't sustained a last-minute injury. To have him actually win the match was one of the most unpredictable calls in recent memory, and I tip my hat to whoever made the decision. The joy on Ryder's face was a rare glimpse of true emotion in wrestling, and the moment was only made more special when the wrestler's father leaped into the ring, celebrating with his son through tears of elation. If there was one Wrestlemania moment on the night, this was it.
The opener was followed by a match between Chris Jericho and AJ Styles that while solid, will not rank among the best ones in either man's awe-inspiring career. While Styles (38) was named Wrestler of the Year by Wrestling Observer Newsletter as recently as 2015, my heart sinks to admit to myself that at 45, Jericho's best days may be behind him. While still far more technically proficient than the average WWE wrestler, the 'Lionheart' has slowed down over the last few years, and seemed to have some trouble with his timing in the match with Styles. It will be interesting to see how long he continues to wrestle.
Styles-Jericho was followed by one of the most unappetizing matches on the card, as The League of Nations faced off against The New Day. The latter did get the best entrance of the night though (sorry Triple H), popping out of a giant 'Booty-Os' cereal box. Only in wrestling. While the six-man tag match was as dull as expected, things livened up once LoN picked up the victory. King Barrett began running his mouth about how no group in history could stand toe-to-toe with them, etc. etc. In an incredible stroke of luck, it seems that Shawn Michaels, Mick Foley and Stone Cold Steve Austin were all passing by when Barrett began his rant, and they of course paid a short visit to the ring to hand out a generous helping of Sweet Chin Music, Mr. Socko's and Stunners. It was a standard Wrestlemania nostalgia moment, but hey, that never gets old.
It was at this point that the first big disappointment of the night occurred. Like many, I had expected Brock Lesnar vs. Dean Ambrose to be the show-stealing match of the night, but WWE's handling of this match was inexplicable. After building for weeks towards a long, vicious, no-holds barred street fight, we got a one-sided match that barely lasted thirteen minutes. There was the usual barrage of suplexes, with one kendo stick and a few steel chairs serving as the only flimsy justification for the 'Street Fight' tag. This should have been a star-making performance for Dean Ambrose, but if anything it has only weakened his stock. Brock Lesnar got nothing out of the exchange either. This bout did zilch for either performer, and I'm dumbfounded by the manner in which it unfolded.
The Women were up next. I capitalized 'women', because in a welcome move, WWE announced prior to the match that they would be abandoning the 'Divas' branding, and instituting a new WWE Women's Championship. This is an effort (I hope) to shift the focus of their female division from models to wrestlers. The match, therefore, was a historic one, and Charlotte, Becky Lynch and Sasha Banks more than lived up to the billing, putting on what in my opinion was the best match of the night. Banks was widely tipped to win, but Charlotte retained in a surprising move. It will be interesting to see where this leads.
That brings me to the second unfortunate flop of the night, the much-promoted, high-stakes Hell in a Cell clash between Shane McMahon and The Undertaker. Without even getting into the complete lack of logic behind this match or its result, if there is one thing WWE should learn, it is to probably never schedule another high profile encounter in which both performers are on the wrong side of 45. Shane (46) is still incredibly agile for his age, but Undertaker (51) is now clearly struggling. This match seemed to be a chore for the two to get through, with almost nothing of note happening before or after THE only moment that made this match worthwhile – i.e. the moment Shane McMahon proved that he is still an insane, suicidal nutjob.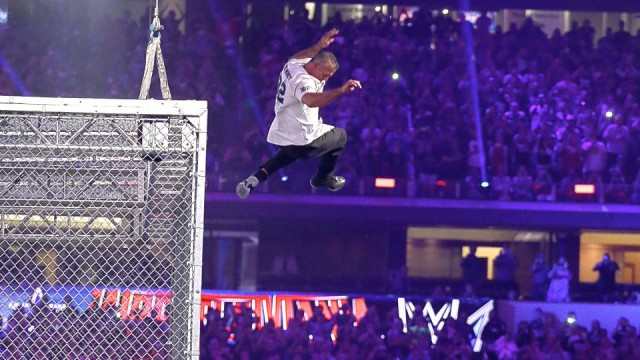 After all this time? Always.
Shane McMahon leaped off the edge, but sadly Wrestlemania followed him in his descent. HIAC was succeeded by a mess of a Battle Royal that featured DDP, Tatanka and Shaquille O'Neal as unannounced surprises. Interestingly, NXT wrestler Baron Corbin picked up the victory. Surely this means a call-up to the main roster?
I don't quite know how to describe the bizarre waste of time that took place next. The Rock walked out to a huge ovation, and for some reason, played around with a flamethrower for a few moments before using it to light up a sign that merely said 'Rock'. He then spent several cringe-worthy minutes spewing a monologue that consisted mainly of the phrases "Smiling faces", "Dallas, Texas" and "Break records", forcibly interspersed with standard Rock catchphrases. The Wyatt Family came out. Bray spewed the usual indecipherable nonsense, and Rock made juvenile jokes in return. Mind-bogglingly, Rock then took off his pants to reveal wrestling gear, and challenged Erick Rowan to an impromptu match, which he won in six seconds with a Rock Bottom. Rowan got up anyway, and all the Wyatts began converging on Rock. John Cena came out and helped Rock dispatch said Wyatts. Cena and Rock hugged.
What on earth was that about? Was Rock unhappy at having to be 'saved' by Cena at the end, and was the farcical Rowan match a way of placating him? Why the flame-throwing? If Cena was medically cleared, why wasn't he in a match? I feel a headache coming on. Oh, and what does poor Bray Wyatt have to do to catch a break? He seems destined to be the Eater of Finishers for years to come.
Finally, a Wrestlemania is often defined by its main event, and this was no exception. Unfortunately, for Wrestlemania 32, that's not a good thing. The less said about the travesty that was Roman Reigns vs. Triple H, the better. We knew the outcome of this match a year ago, but that didn't make it any more palatable. The bout was terribly dull, with the only bright spot being an explosive spear Reigns delivered to Stephanie McMahon. As expected, Roman was booed soundly throughout and after the match, and sadly we will have to get used to that depressing sound, because he is set for a long, long run in the spotlight. I am dreading with every ounce of my being the inevitable rematch we will get at Payback.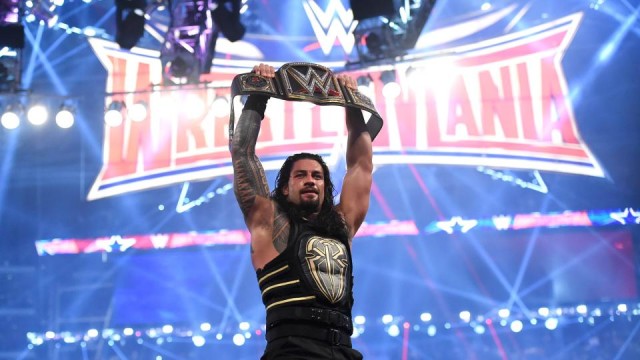 Two things are apparent from Wrestlemania weekend – WWE has one of their best rosters in history, but they are also at one of their lowest points creatively. The fantastic NXT Takeover Dallas and the undercard Wrestlemania matches proved the former, the muddled and insipid approach to the main event storylines proved the latter. It is looking more and more as if the once peerless Vince McMahon is losing touch with the pulse of his audience. Triple H, on the other hand is doing wonders with NXT. Watch Takeover, and the difference between the two is stark. Is it time for Mr. Levesque to assume full authority?