After a sub-par Wrestlemania, this Monday's RAW marked a much-needed upswing for WWE, thanks in no small part to the fantastic crowd that attended the show in Dallas. The post-Mania audience has always been electric, and this year was no different. Their unrelenting intensity, humour and creativity transformed what might otherwise have been an average episode into an exciting and memorable one.
Here, I discuss five talking points that have emerged from the show. I hope to make this a regular feature, and so have christened it 'The Five-Knuckle Shuffle'. (Named after John Cena's finisher, not that other thing)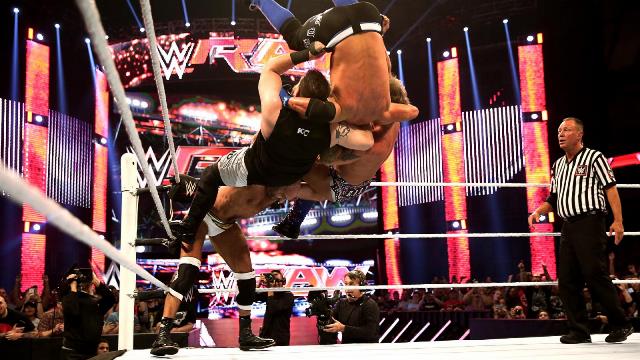 Here Comes

There Goes

Here Comes the Money?
Vince McMahon gloats about The Undertaker's defeat of Shane McMahon at Mania. Shane comes out, congratulates his father, says goodbye to the fans and turns to leave. Vince, furious at being 'upstaged', says he will allow Shane to run Raw for one night, just to prove how bad things would be with the junior McMahon in charge.
None of this makes sense. After a month of unleashing physical and verbal vitriol on Shane to ensure he would lose at Mania, Vince decides to give his son the reins anyway? What was the point of the match? To make things worse, Shane barely appears on the show after that opening segment. The only glimpse we get is him shaking hands backstage with various competitors before their matches. He does not schedule any matches for Payback, does not appear on the Titantron to add stipulations to an already-scheduled match, nothing. Wouldn't the logical thing have been for him to schedule a rematch with Undertaker at the next pay-per-view, or something along those lines?
Logical loopholes aside, I am curious to see where this storyline goes. Will Shane finagle his way into a rematch of some kind next week? The 'Authority' angle has more than run its course, and Raw needs something fresh. There have been rumours that we could once again see a brand split, with Raw and Smackdown each having distinct rosters and headed by different general managers. The coming weeks should offer more clues about the direction WWE intends to take.
The Kids Are All Right
Arguably, the biggest triumph of Wrestlemania weekend was the roaring success of NXT Takeover: Dallas. WWE's developmental system is loaded with talent, and we saw three NXT commodities making their debuts on this Raw: Apollo Crews, Baron Corbin and the tag team of Enzo Amore & Colin Cassady.
Crews was tremendous in his short match with Tyler Breeze, showcasing a rare combination of power, size and agility reminiscent of Bobby Lashley (and a certain Brock Lesnar before him). Corbin followed up his surprising Mania Battle Royal win with a solid performance against Dolph Ziggler. Enzo set the mic on fire as he announced himself to the WWE Universe and ran down the Dudleys in a crackling segment reminiscent of the Attitude Era. The future continues to shine promisingly for WWE.
Superman Returns
While this was a Raw of debuts, it was also one of returns. After four months on the shelf, Cesaro is back in business. After Kevin Owens attacked Sami Zayn and ruled him out of the Fatal Four-Way main event, the Swiss Superman was revealed as his replacement in an entrance that radiated swag. Cesaro didn't show the slightest trace of ring rust, unleashing uppercut after uppercut to the unbridled glee of the sold-out Dallas crowd.  Cesaro's return is a timely boost to the roster, and it will be interesting to see what plans WWE has for him – there are already rumblings of a feud with Chris Jericho
Rough Ryder
Cesaro wasn't the only surprise on Raw. The Intercontinental Championship match between Zack Ryder and The Miz saw the completely unexpected return of former Diva Maryse, who is married to Miz in real life. Maryse's appearance distracted Ryder (Can't fault him for that), allowing Miz to roll him up for the pinfall. While it is good to see Maryse after such a long hiatus, poor Ryder now joins the undesirable list of 24-hour champions, having lost his title just a day after winning it so memorably. I truly hope that this is the start of a longer story arc that will make Ryder a bigger star, as opposed to a decision to once again dispatch him to jobber hell.
Roman Empire: Democracy or Dictatorship?
The biggest question that WWE will have to address is how Roman Reigns will be positioned going forward.  As evidenced by the "Better than Roman" chants that popped up in nearly every match and the explosion of boos that greeted his entrance, the hardcore fans emphatically reject Reigns as the face of the company. He is facing an antipathy far greater than anything John Cena encountered when he was pushed to the top a decade ago – and Reigns doesn't have half the charisma or psychology that Cena did back then. Will WWE choose to march ahead with blinders on, and have Reigns portray a Cena-like babyface that ruefully embraces the boos with a wink and a shrug? Or will they go a different route?
AJ Styles' victory in the #1 Contender's Match is, for me, the most interesting thing that happened on this show. The first challengers for babyfaces who are being set up for long title runs are typically experienced, established heels from the upper midcard. As a recent example, Alberto Del Rio was the first mile marker for CM Punk in his historic 434-day reign. Daniel Bryan, who was being positioned for a similarly long run before he got injured, first feuded with Kane. WWE undoubtedly wants Reigns to be in this for the long haul, so why have AJ Styles be his first challenger? Styles is the hottest new addition to the WWE roster in recent months, has been an Internet darling for more than a decade and is even popular with the casual fans for his high-flying, athletic style. In short, he is an unambiguous babyface that will be cheered by the entirety of the audience; he will have more vocal crowd support than Reigns.
This begs the question – does WWE want this to happen? Is Roman Reigns vs. AJ Styles a way to embrace the crowd reaction and facilitate a heel turn for Reigns? Or is Styles merely temporary fodder for Reigns while the heels are wrapping up other rivalries? Or will Styles be the one who turns, perhaps enlisting the help of debuting Bullet Club teammates to rob Reigns of the title? This is a feud that I will be watching closely.