With Friendship Day around the corner, this movie made it to the cinema hall just in time. And it doesn't revolve around friendship alone. It talks of the chemistry friends share, the different kind of a life they live in their own alienated world, the kind of ideas that excite them, and whether their idea makes sense to the rest of the world. Yes, it's hard to see this film as a third person- because it's your story as much as it is mine, and so is every other middle class person's who ever tried to carve a different route for himself. And that's where this film stands a winner.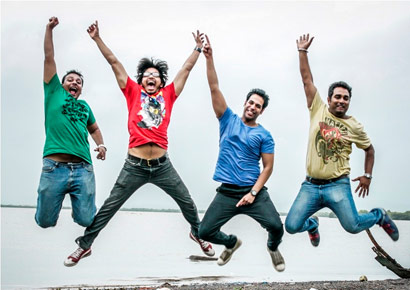 The movie revolves around these four purposeless friends- Manav (Aakar Kaushik), Loveleen (Manish Nawani), Pankaj (Alok Kumar), and Gaurav (Vijay Prateek)- who get together for a badminton game every evening, and tired of their unproductiveness, decide to make their life mean something. And in quest for the same, they decide to initiate a catering business for the office folks in Delhi. With responsibilities divided among them (Manav as a cook, Pankaj as an accountant, Loveleen as a PR guy and Gaurav handling the administeration), they proceed with their small enterprise and also get an unlikely taste of success. But with this outcome, their appetite of success just increases, and whether they can survive the ordeal- professionally and personally- to do what it takes to get big is all the movie about.
The four lead protagonists have done extremely well for debutantes, and I quite liked the part where they don't mouth dialogues but use gestures instead to convey a message. Lovely! Also, the relationship the four share among themselves looks very natural, and has a crude feel to it. Thankfully, director Hemant Gaba sticks to simplicity throughout the film, which only adds to the charm. And with the topic of entrepreneurship that pops up in almost every youth's career 'plans', this flick will surely connect where it's meant to connect. Hope and Success highlighted so very often, the connection would be worth remembering for sure.
So go watch this movie while it's still playing, and better take a break while you're shuttling in life to achieve economic and personal freedom.
Overall rating: 3/5