The eagerly awaited superhero science-fiction film Krrish 3 had its trailer launched today! The flick stars Hrithik Roshan and Priyanka Chopra in lead roles while Vivek Oberoi plays a villain named 'Kaal'. Kangana Ranaut too stars in the movie, essaying the role of a mutant. Not only has the superhero mask underwent an upgrade, but if director Rakesh Roshan is to be believed, then there's a twist in the earlier characters as well. "You will see Priyanka in two avatars. She plays Krishna's wife but suddenly her character changes," says he.
Rohit has derived the secret behind Jaadu's powers that he tapped through the sun. If the experiment Rohit is conducting is successful, then mankind will get refurbished as never before. But somewhere out there an evil force in Kaal is trying to sabotage the experiment, and that's when our Krrish rises to save the day.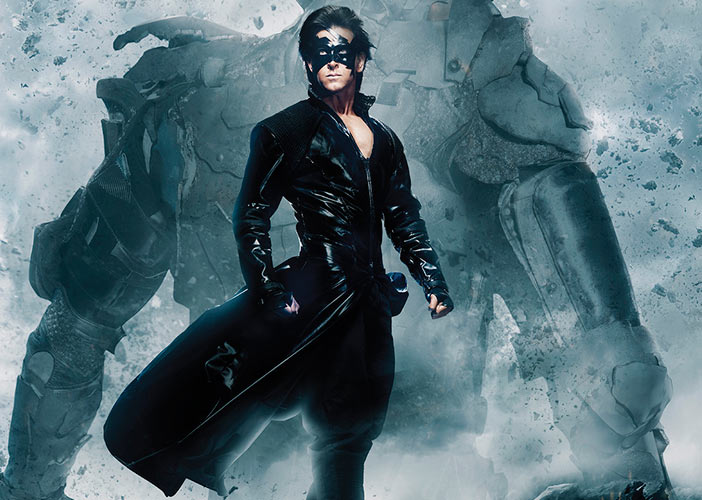 Must say, the VFX employed in the trailer is a hoot! The visuals match up to teh standards of a majority of Hollywood flicks, and that's a huge achievement (I'm not talking about an Avatar here, but anyways). Die-hard fans may also download the official Krrish 3 Bollywood movie app for Android from Google Play Store. The app at present gives just limited information like the Synopsis, cast and crew. Also, the app features brand new movie posters and additional services like 'Live Poster' and 'Krrish Mask' (a feature that lets you upload a picture of yourself and then it places the mask onto your face).
The movie, produced and directed by Rakesh Roshan shall hit screens on November 4, 2013.
Watch the trailer here: