"And when all the wars are done, a butterfly will still be beautiful….." – Ruskin Bond
We never realised that such a delicate topic of war which otherwise spells gore and gloom can be beautifully woven with elements like fun, laughter and love. Director Faraz Haider made sure that he stands out with his innovative concert of a 'War Comedy'. Yes! you heard it right!! It is a comedy with a tinge of war!!! It seems unique as it is a big irony for fun and war to go hand-in-hand.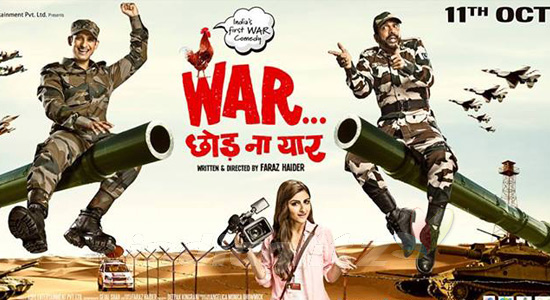 The story shows you the atrocities faced by the people when stuck at war. It also mirrors the emotions and hardships of the men on border. Everything is hunky-dory when there's a war but beneath the suffering there are souls out there who make sure that nothing goes wrong and there are others who want to highlight this and let citizens know about it. Rut Dutta (Soha Ali Khan), a reporter with cheery smile working with TEZ channel belonged to the latter category who grabbed an opportunity to to cover a war between India and Pakistan. She goes to the border and befriends the soldiers and Raj (Sharman Joshi), who happens to be a determined army captain. Leaving aside his gritty side, he is an incorrigible flirt who misses no opportunity to impress the ladies. On the other side of the border is the dignified Captain of Pakistan named Qureshi ( portrayed by Jaaved Jaaferi) . He is not even remotely connected to things like flirting and dating . being a bachlelor, he does fall strongly for Rut but maintains his poise and calm amd respects her to no limit. Then comes, Dalip Tahil who portrayes four different characters – of a Chinese general, a pakistani statesperson, an Indian politician and an American Senate member with elan. Sanjai Mishra plays Commander Khan of Pakistan and Mukul Dev plays Ghuspetia. All the soldiers bond with this peppy reporter and they quickly form an inseparable bond which is quite sweet.
This film has many layers of slapstick and there are many tongue-in-cheek dialogues which make us giggle. Although the sequences shown are over-the top, it doesn't make the film less endearing. Director Faraz Haider of Oye Lucky Lucky Oye! fame made it a point to interpolate the movie with great fun elements . He converted the cliche war into something that made us laugh. The humor is sweet and the film generates a feeling of bonhomie.
As for the actors, Hats Off to all of them. Sharman Joshi dons his cap of Indian Army Captain with charm. He is funny, gritty and a flirt in a sweet way. Soha Ali Khan was at her best and certainly deserves praises for her acting. Jaaved Jaaferi, whom we have always seen in slapstick pulled his act well. Dalip Tahil does a commendable job in portraying all the four characters. This can be said as one of his best acts till now. Mukul Dev who tickles the bunny bone well deserves claps too and Sanjay Mishra as the "Sher" of Commanders is good.
Cinematography is good and the movie has melodious tracks. Most of the time , it is the comedy and the storyline that hooks us to the film. I recommend we all watch this film which serves as a good entertainment option this Navratri apart from your garba evenings'. Watch this film not just for the actors or the story, but for the innovative concept of war comedy where there are wars sans destruction and agony. Recommended.
Overall rating: 3/5