Shekhar Kapur's and A R Rahman's online social media venture Qyuki, that was announced last year, finally goes live today. Qyuki, meaning 'because' in hindi, is an online platform designed to tap Indians' creative potential in areas of animation, films, short stories, music, photography etc. The inputs are welcome in the form of video, audio, images or text. The website even has an editorial board, which'll review each and every work posted on the sie, and suitably awarding a few quality ones with badges.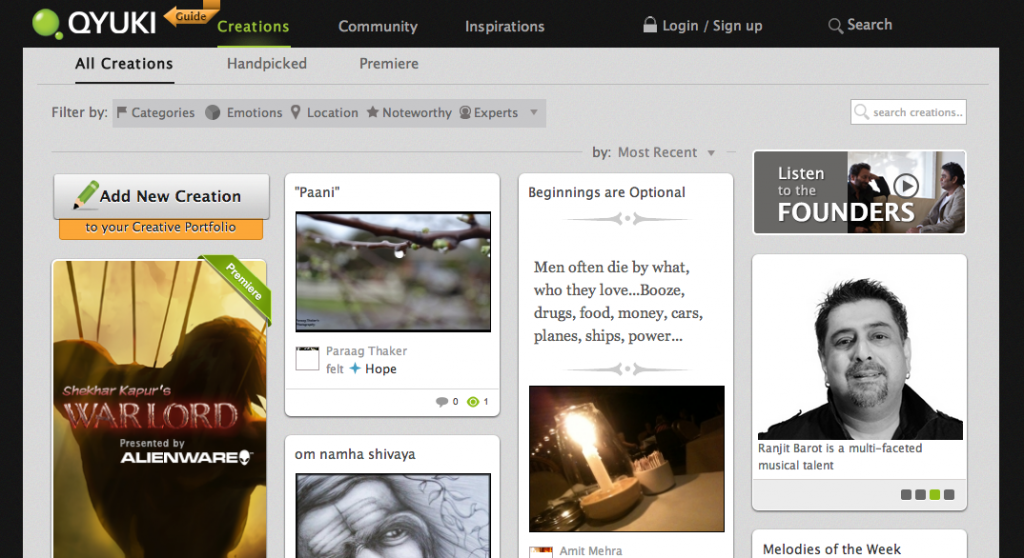 The platform is a bridge professionals and creative novices, or in Shekhar Kapur's words- "a community of cretive creations." While YouTube and other similar platforms allow users to upload their own content, but theres no guarantee of its quality, believes Qyuki co-founder A R Rahman. He states that the site will only feature creatively great contents. Many people have been roped in for Qyuki from diversified fields of creativity- names which include Imtiaz Ali, Chetan Bhagat, Ranjit Barot and Suresh Natarajan- people who're supposed to provide creative ideas to artists and who may even join them in creating new content.

Check out the new Qyuki site here. While you can view the site, you are supposed to sign-up and register in order to comment on any featured work.