Chetan Bhagat's last fiction 'Revolution 20/20' came out in 2011, and was widely read. Just like his other novels, this too has been picked up for a movie adaptation. This was followed up with 'What Young India Wants', which was a superficial sweep over the things concerning the Indian Youth, and failed to make much impact. A book-to-movie adaptation (Kai Po Che) and screenplay writing (Kick) later, India's most read (/loved/criticized) English author has returned with Half Girlfriend, yet another love story. His tweet dated August 3 read – "Tomo. New book announcement. Super excited.(sic)"
Half Girlfriend's first look was released by Flipkart today morning, announcing that the e-commerce giant is offering exclusive pre-orders of the book. The new book is a love story between a simple Bihari guy and a sassy Delhite girl.
You can pre-order it from Flipkart here :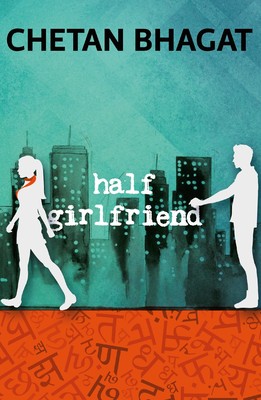 Summary of the book –
Madhav is a Bihari boy nurturing big dreams who falls in love with the beautiful Riya, a rich lass from Delhi. There are some basic differences between the two. Madhav's English isn't all that great, but Riya speaks it quite fluently. Madhav wants Riya to be his girlfriend but Riya is not interested in such commitment. She just wants to be friends, to which he disagrees. The two finally come to a compromise, where Riya agrees to be his 'Half Girlfriend'. This simple and beautiful love story shall move you with all the nuances of a modern day relationship, and inspires you to realize your individual dreams.
The book is published by Rupa Publications, and is all set to release on mid-October 2014.