The lab was packed with many of the brightest minds in their field, all focused on a secret project that would change mankind for ever. In a matter of seconds, they would all be dead.
Those lines will get any action-thriller novel fan immediately hooked to the book. Having not read any of the earlier Payne and Jones books, I was not sure whether I would be able to enjoy this installment of the action novel series as I lay my hands on it. What if it's just another Hardy-Boys-high-on-hormones-and-grey-matter-types? But boy was I pleasantly surprised. It has some good reasons to get featured in the Sunday Times Top Ten Bestsellers. If you are someone who loves bromance coupled with rapidly moving action sequences filled with trigger pulling and explosions all woven into a good storyline with humor and banter thrown in at proper places, there's a good chance you will enjoy "The Einstein Pursuit" by author Chris Kuzneski.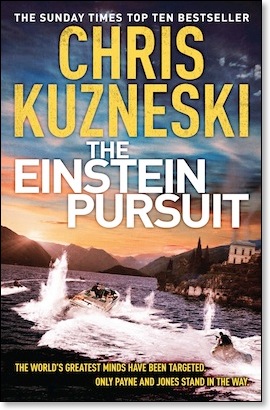 A lot of people had called the book a fast-paced one and it really is unputdownable. Thanks to the excellent write-up that begins with a description about modern medicine which could change everything we know about the human body. And as we all like to throw in every now and then – With great power comes great responsibility. When this medicine lab is attacked (an explosion in Stockholm that claims the lives of an elite collection of scientists), it becomes clear that someone will stop at nothing to keep this research from reaching the masses. As more details come to light, Investigator Nick Dial realizes that these scientists have been operating in the shadows for more than a century. What is more, the team was founded by none other than Albert Einstein himself. That's the story's theme in a nutshell for you. Pursue the rest of the story yourself now, you won't want to kill the fun reading it all here, believe me.
Alongside high-octane action there is this interesting character build-up, and each character has a strong presence throughout the book. His two main characters are fun and entertaining and his supporting characters are well developed and add to the fullness of the story. Nick Dial enjoys a prominent role in this story. As Dr Mattias Sahlberg (a scientist) turns to the only men he can trust — ex-Special Forces operatives Jonathon Payne and David Jones — there is a miraculous discovery. What happens next, is for you to find out in this story that inclines steeply towards military and science.
The parts I really enjoyed reading include the overtly dramatic beginning that's followed by the almost Hollywoody gun fight sequence. Most of the action is carried out from a desk, so you know how intellect drives the action here and keeps us awed throughout. Few fight sequences could have faced the editorial scissors, but they don't dampen the fun much, so that could be excused I think.
This book is strongly recommended for those popcorn-crunching readers who have been following the series till now, and if like me you find yourself addicted to the book till the last page, you might go get yourself the other books in the series too. Give that brain of yours a dash of humor and a high of thrill among the other genius pursuits.
Overall Rating – 3.5/5
About The Author –
Chris Kuzneski is the New York Times bestselling author of seven novels: THE DEATH RELIC, THE SECRET CROWN, THE PROPHECY, THE LOST THRONE, SWORD OF GOD, SIGN OF THE CROSS, and THE PLANTATION. His thrillers have been published in more than twenty languages and are sold in more than forty countries. Kuzneski grew up in Pennsylvania and now lives on the Gulf Coast of Florida. His next book, THE HUNTERS, will be the first book in a new series.
You may buy The Einstein Pursuit here: