Too much education never helped anyone,
Mankind's ability to dream is stunted; boxed in textbooks helped no one; What we need is practical experience; the road teaches you much, My experience in writing is one such.
For some it was cracking, and for others it was nothing less than torment. Horn Ok Please: HOPping to Conclusions was Kartik Iyengar's first book that seemed more like a compendium of his perception towards a lot of things as seen by the Morons – Chief Redbull, Goose Goldsmith, Derek Demonia and Hound Hitchhiker – traveling all over India in a sexy-beast SUV called Motormouth. Well Motormouth has now taken to highway number two, which is a somewhat bumpy one.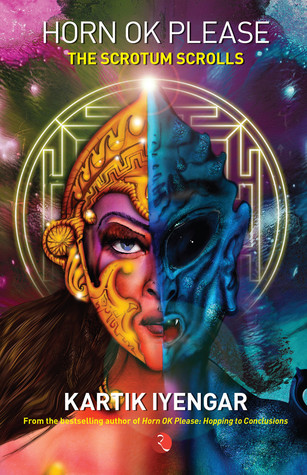 The second installment Horn Ok Please: Scrotum Scrolls tried pulling a The Hitchhiker's Guide to Galaxy, and yes I'll draw lines and won't compare (these are 'light years' apart). But 'fun' is a common thread shared by both these books. In version two of Horn Ok Please, the Morons are abducted by Scrotum Heads, an alien race and direct them to find Scrotum Scrolls that has secrets of the Universe before Hurricane Helga and her henchmen from Planet Afaria attack Earth (all in the Mayan Calendar). Yes sir that's the reason for the Morons to 'HOP' in Motormouth and set out on a journey, again, to save planet Earth from destruction on 21st December 2012 by finding the scrolls.
I liked the unlocking-codes part, and the deciphering was pretty straightforward, (like 0011503 stands for THE, and the following numbers stood for the respective words in the below stated decipher). I doubt whether readers will take trouble to reason logic here, so lazying on this part is justified by the author. Every single sentence in the book finds its drive in the brain, and wild imagination colors the narrative. The characters are whacky, just as they were in the first installment. Though all this makes the book interesting, it doesn't make the book entirely funny, though it has its share of laughs. The author has invested lots of efforts in inculcating unnecessary humor in the plot. The puns and unwanted swearings fall dead in attracting smiles, though the short poems in the beginning of each chapter make for an amusing quickie. Excessive indulgence in rock music again dulls the read (maybe because I'm not a huge fan, may arrest your interest though).
Roses are red, violets are blue, here's a thinker read just for you. Be wise, be warned, the quirkiness *may* kill the rhyme.
Overall Rating: 3/5
You may buy Horn Ok Please : The Scrotum Scrolls from Flipkart here:

About the author:
Kartik Iyengar, besides being a successful corporate professional, is also an adrenaline junkie who has tried everything from scuba diving and bungee jumping to daring the climatic extremes of the globe. A compulsive road hog, he has unveiled the mystery of terrains in his SUV which he lovingly calls Motormouth. A heavy metal maniac and an ardent social media digerati, he has thousands of hyperactive hopper fans on http://www.facebook.com/hopfans.