NRI filmmaker Mitesh Patel is quite impressed with Narendra Modi's advancement from a tea stall worker to the Chief Minister of Gujarat, and is all set to make an inspiring movie based on his life. He's signed Paresh Rawal as the producer and actor for this projected 40-crore venture. Rawal claims himself to be the best person to enact Modi, and has even campaigned for the latter during last year's Gujarat state elections.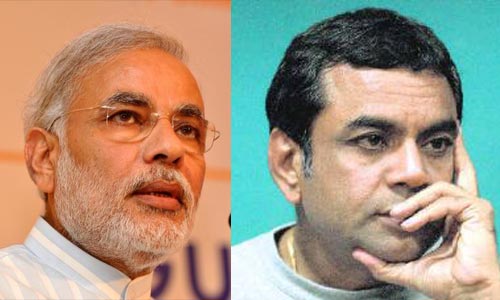 With Narendra Modi being the BJP Prime Ministerial candidate, Mitesh admits that this film on the Gujarat CM couldn't have been better timed, but further added that in no way this film will act as a Modi-image-booster for next year's general elections. Rather, the film will concentrate more on the struggle faced by Modi to reach where he is now. The film shall be a carrier of positive message and shall prove inspirational for today's youth.
The project is still untitled, and is expected to go on floors this year itself. The cast and crew are yet to be finalized. Writer Mihir Bhuta, and Kishore Makwana (who's authored a book Samaajik Samrasta based on Modi's speeches and writings) shall be assisting Patel in developing the film. Mihir Bhuta has penned the script, and has included best of both fact and fiction. Patel hopes his film is commercially presentable as the recently released Milkha Singh's biopic Bhaag Milkha Bhaag.