When one of India's top comedian produces a book on one of India's top social crisis, you can pretty much expect a howling look at things flying off those pages. Sorabh Pant's Under Delhi is nothing less that what I expected. The moment I went through the back-cover of the book and set my eyes on Asaram Bapu's 'Bhaiya' comment on rape, I knew I'd finish this book off in the least number of sittings. With most number of laughs.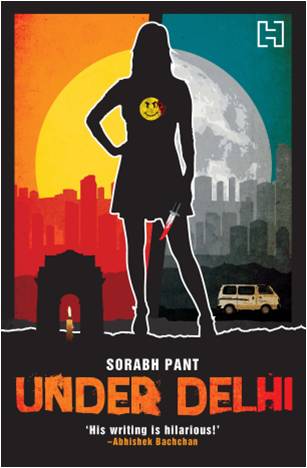 Rapes and sexual assaults get discussed in this book through the commentaries made by well-known personalities, one of them even the President's son. The main protagonist of the story is Tanya Bisht, a sales executive with a construction company in Delhi, who doubles up as a lady Shehenshah at night to bring justice to the girls who have been wronged and let down by the Indian judicial system. In her vigilante pursuit she's aided by another woman called Sonia, to get at the bad men who were let loose by the law.
Tanya is perfect Bollywood material (women-centric films are trending no?), just like this book. She has broken free of stereotypes, knows herself, speaks her mind. She has her own set of complications in life, but manages somehow to take time off for her 'recreational' activities.
Sorabh Pant has followed a pretty linear narrative style, so reader has no complications as such in grasping or understanding the plot. The story is your regular day-girl-night-superwoman-ish, but the humor that has been peppered throughout the chapters makes it stand out.
Under Delhi accompanied me in a dull 20-hour train ride, but believe me, and among the many sleeps and chai-breaks, I never knew how time flew off as I completed the book. A highly appreciated and recommended read.
Overall Rating : 3.5/5
You may purchase the book from Flipkart here :