I am coming from behind me and I am going ahead.
"A dog can lead you into the corners of some stories better than any human can," is the fact beautifully established in this George Schaller book. The main protagonist of the book, Deki, is a Tibetian dog born with a 'moon on her chest'. In this animated adventure, Deki befriends a runaway boy named Karma, and together these two have to safeguard a precious statue from a desperate bandit and proceed towards Shambhala, or the celestial city.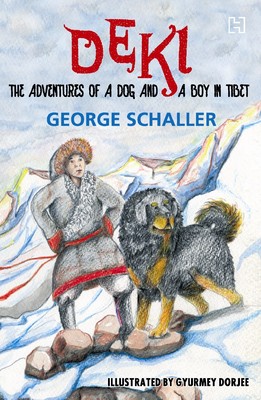 The characters have been strikingly detailed, and the backgrounds well sketched. The captivating illustrations by Gyurmey Dorjee is just another win for the book, and assist the narrative with all their vivid imagery. Deki is pictured in an anthropomorphic form, and that further connects her with the young readers.
Schaller peppers in his book richness of all emotions, and glorifies them all the more with the many friendships and farewells accounted for in those pages. Be it animal-animal friendship among Deki, Tashi and Changku or the man-animal friendship between Deki and Karma, there is an underlying wisdom channelled through each of these relationships. This book also forms a tribute to the charm and enigma that is Tibet.
All in all, this is a beautiful book featuring a beautiful adventures that the young readers would love and cherish.
Overall Rating: 4/5
Buy this book from Flipkart here : 

About the author – 
George Schaller is a field biologist who has studied wildlife in North and South America, Africa and Asia. Naturalist, conservationist and author, he is well known for his pioneering studies of gorillas in the Congo, lions in Tanzania and tigers in India. He and his wife became the first Westerners to be invited by China to collaborate in a study of giant pandas. Continuing his work in China, he spent many months on the Tibetan plateau with special attention to the conservation of the Tibetan antelope or chiru, which is illegally hunted for its fine wool. George Schaller's honors include the World Wildlife Fund's gold medal for 'Contributions to the understanding and conservation of endangered species', the International Cosmos Prize from Japan, the Baogang Environment Prize from China and the Salim Ali Environment Prize from India. His book The Serengeti Lion received the National Book Award in the United States. He is vice president of Panthera, an organization devoted to the conservation of wild cats and senior conservationist at the Wildlife Conservation Society in New York. His home in the state of Connecticut is near New York, but he can usually be found in some remote corner of the world studying and trying to help protect some rare and elusive animal and its habitat.