Cast: Kamal Haasan, Pooja Kumar, Andrea Jeremiah, Rahul Bose, Shekhar Kapur Direction: Kamal Haasan [highlight]Overall Rating: 3.5/5[/highlight][divider]
Swimming against the controversial waves, Kamal Hasan's ambitious magnum-opus Vishwaroopam is one technically astute movie that subtly handles the issue of global terrorism.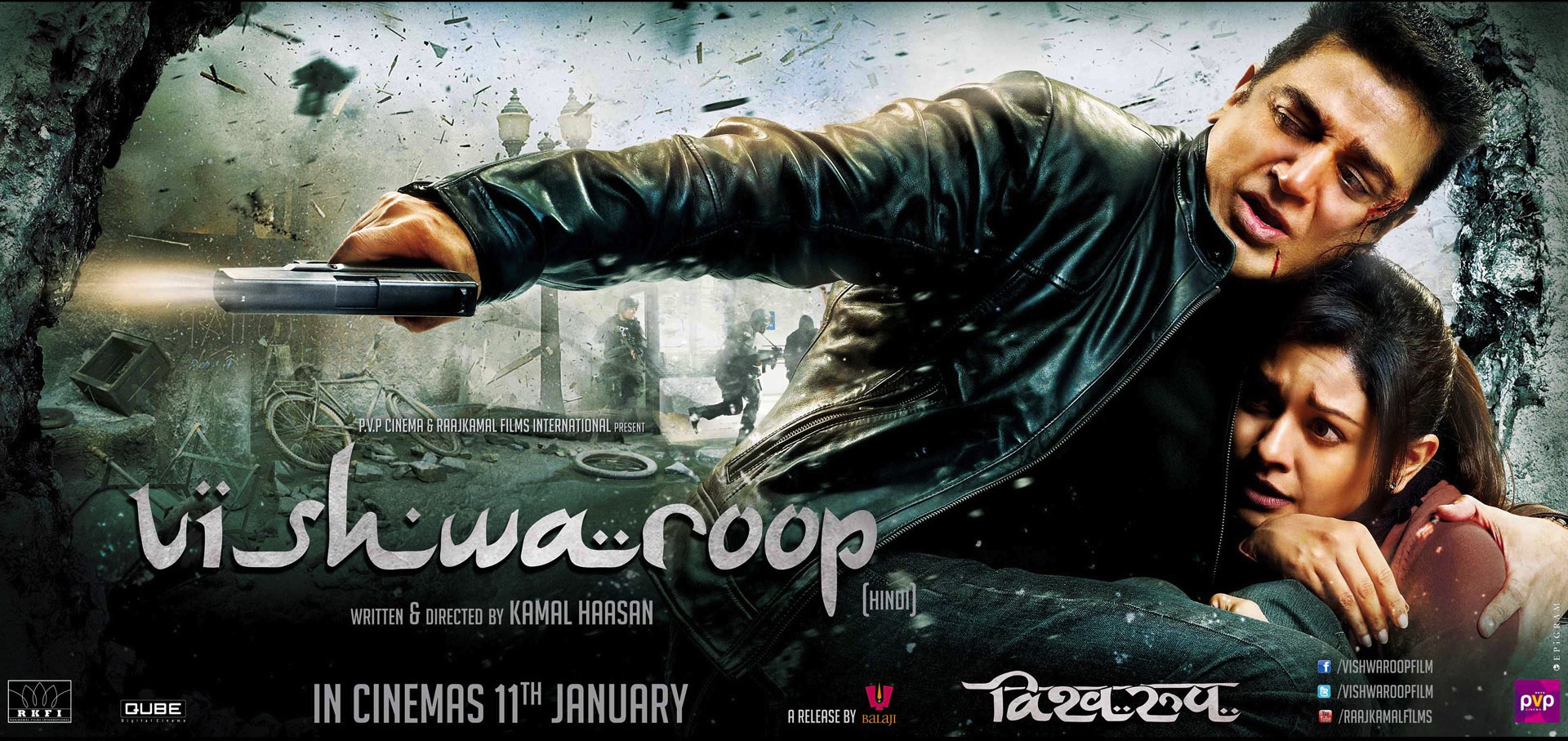 The story revolves around a Kathak dancer Vishwanath (Kamal Haasan) who resides in New York with his nuclear oncologist wife Nirupama (Pooja Kumar), and training under him is a beautifully young dancer (Andrea Jeremiah). Suspicion creeps into this marriage and Nirupama decides to hire a spy to check on her effete husband. But in an unlikely turn of events, the spy is murdered by a terrorist outfit headed by Omar (Rahul Bose). The movie here-on delves into Vishwanath's past that he shared with Omar in Afghanistan and churns out a decent graphically-violent international spy thriller that sincerely attempts to uplift the standards of commercial regional cinema.
A lot many gaps in the storyline is left to be filled as Kamal decides to reserve the major twists in the movie for the future-planned sequel- Vishwaroopam 2. Leaving those specific pieces of the puzzle unmoved, the remaining story makes well to hold down your attention and has enough elements to entertain the masses and classes alike. The narrative just adds to the flow of the script. Regarding the performance front, every actor delivers a quality performance- be it Kamal Hasan veining out his blood and sweat for the film, Andrea, Shekhar and Pooja attesting remarkable performances, and Rahul Bose as the threatening Omar who succeeds in inflicting the necessary chills required of  thriller. And yes, the film does not show any particular community in bad light as reports may have suggested.
Sanu Varghese shines in the cinematography segment, with locales of New York and Afghanistan being deliciously captured. Shankar, Ehsaan and Loy experiment with their music as they try fusing the melody as per the film's mood.
Overall, the movie is a dependable escape for this weekend for cinema lovers who're seeking out a proper thriller.
Section-wise rating below: