The twelve year long nourished excitement of having the Khiladi back on-screen has been totally gutted down from my system, thanks to this one disastrous Himesh Reshammiya-scripted masala flick. Presenting one more cop who's over-the-top, Khiladi 786 packs a lot lesser punch as compared to Rowdy Rathore.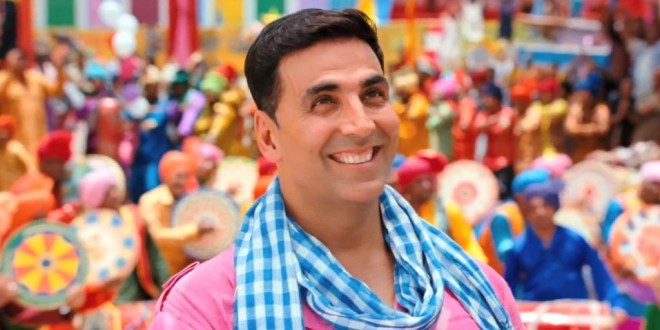 Heavily fed on Punjabiyat, the story talks of a local ruffian Bahattar Singh (Akshay Kumar) and his family, who don the khadi to assist Punjab Police in seizing smuggled goods. With the con-reputation surrounding them, no local girl proposes to marry in their family, so all but Bahattar have their better halves imported from other parts of the globe. Mansukh Desai (Himesh Reshammiya) is a struggling match-maker who jumps in the wagon to hitch Bahattar Singh with Indu Tendulkar (Asin), sibling to a dreaded gangster Tatya Tukaram Tendulkar (Mithun Chakraborty). Indu even has a part time lover in Azad (Rahul Singh), who only adds to the drag factor of the film. Then scrambling up some illogical twists and extraordinarily downgraded jokes, the movie paces ahead.
Performance wise, Akshay does work his charm well through the film, but he had to be equipped with better dialogues to have carried this out convincingly. Asin looks pretty, and even has a few stunts to her name. Himesh is totally wasted as the Gujju match-maker. Raj Babbar is decent. While Mithun as the notorious don does churn out a few laughs, it's Sanjai Mishra who truly crackles up the monster within us. Even the average music fails to pep up the overall feel.
Debutante director Ashish R Mohan is still sketching shades of his apprenticeship under Rohit Shetty, what with flying cars and flying goons decorating the celluloid screen every now and then. If only a little logic had been infused in between. Himesh does a mash-up with the script- a little from here, a little from there, and a nasal garnish everywhere- presenting the audience a whacked up wannabe-ishly funny film. It's a big bam HORN-OK-(Bitch)PLEASE for this Khiladi! Save yourself for something better.
Section-wise ratings below: