Cast: Sushant Singh Rajput, Amit Sadh, Raj Kumar Yadav, Amrita Puri Directed By: Abhishek Kapoor [highlight]Overall Rating – 3.5/5[/highlight][divider]
It's said that a book should never be judged by its movie. Because, most books had seen their adaptations failing to match them, and it is more so because it's difficult to accomodate an entire book in a two hour film. With Kai Po Che!, director Abhishek Kapoor takes the smart move as he veins out Chetan Bhagat's novel The 3 mistakes of my life as the soul of his movie.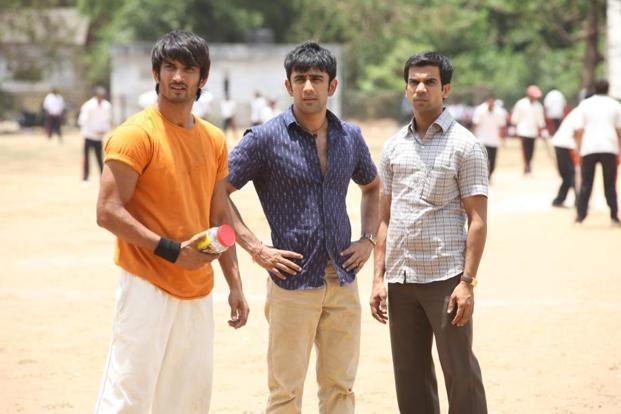 Youth is dynamic, and is the first step towards self discovery- where life derives direction and passions come fore in aggression and ambition.  Three best friends Ishan (Sushant Singh Rajput), Omi (Amit Sadh) and Govind (Raj Kumar Yadav) are among these young, ambitious, agressive group belonging to the underdog middle class. Kai Po Che is about their dreams and struggle to exult them. The backdrop is provided by the two major evensts happened in Gujarat roughly ten years ago- one is the earthquake and the other being the Godhra Killing. The path to success grows many a thorns, and their clashing egos and splashing romance do little to help them in this condition, resulting in their inner devils to rise but ultimately leads their friendship to triumph. The highs and lows in their relations, emotions and everything form the narrative which gets awesomely dramatic near the climax.
The events are similar to the book and director has presented them in his own way- firstly maintaining fidelity to the novel and its originality and secondly managing to catch its norm. He has put on screen what was the best in the novel which itself is not backed with a brilliant story or any depth. It certainly limits the film from being called a masterpiece but as an adaptation its a sincere effort. And hence it becomes a very good watch.
There are various other factors which add on the value to the product especially the cast. Sushant Singh Rajput gets the best character to play and he has utilized the opportunity to roar like anything. His impulsive yet golden hearted Ishaan is one of the finest debuts in a long time. The actor is here to stay. Rajkumar completely translates himself into the over ambitious Govind and shows his acting prowess. Amit Sadh's naive and helpless Omi is tremendously likeable. Watching them together performing intensely, mouthing wonderful lines in an impromptu and life like situations is thouroughly enjoyable. Amrita Puri is cute and her teenager Vidya is beautifully characterized. The efficient art direction and the relevant music certainly enhance the value of the craft as well.
Filmy friendships have a strong history. Kai Po Che too makes an entry into the group. Like his previous film Rock On, here too Abhishek Kapoor showcases friendship in a different backdrop formed of various things like money, struggle, religious matters politics, cricket etc. But friendship takes breaths through all and survives. And this was the essence of the novel that Abhishek Kapoor manages to keep the theme of his movie. Go, watch it!
Section-wise ratings below: