Cast: Sanjay Dutt, Arshad Warsi, Paresh Rawal, Vivek Oberoi, Ravi kishen, Minissha Lamba  Director: Anand Kumar
[highlight]Overall Rating: 1.5/5[/highlight][divider]
Ahoy Munnabhai Fans! The famous duo of Munnabhai and Circuit is back, but this time as foes and not buddies. Director Anand Kumar tries to cover the real-life incidents of Ghaziabad but to vain as all that can be seen is violence full of crap along with the item numbers.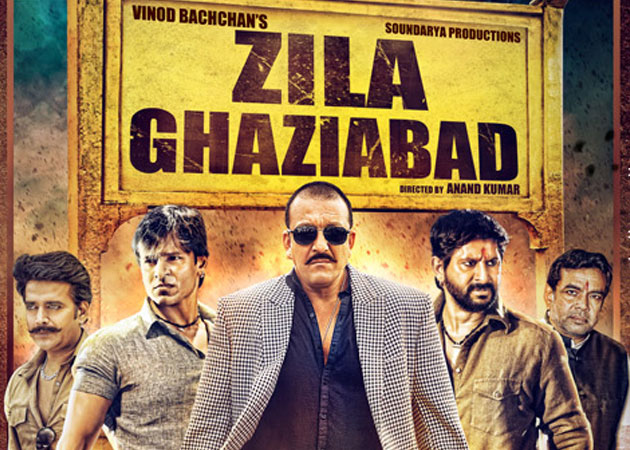 The story is about the sudden gruesome attacks in Ghaziabad. The place has only one daredevil officer who can tackle it all! Fauji (Arshad Warsi) is one such dreaded criminal whose pastime and work both includes guns and bullets and he is pissed with his chairman (Paresh rawell) who is delaying his pay and is more focussed in getting his sister married off! Fauji joins their gang's rival (Ravi kishen). Opposite to him is Satbir (Vivek Oberoi), an english speaking teacher by profession and a die-hard follower of Gandhiji's values in ahimsa, and who eventually takes to guns and gore. Tension arises and fights break out in Ghaziabad and enter the great Pritam Singh (Sanjay Dutt) in his dabangg Ishtyle. Fights between the Khaki versus the gunslingers and the raunchy item numbers by the Ghaziabad ki Ranis is seen till the end. The pretty lady Minissha Lamba hasn't got anything to do in the film. the movie has many lacunae and loses track making no sense.
Alas! the film fails to deliver what it intends to and offers a lacklustre affair that the poor audience is forced to endure! You better maintain your distance.