Cast: Shahrukh Khan, Katrina Kaif, Anushka Sharma Directed By: Late Yash Chopra [highlight]Overall Rating: 4/5[/highlight][divider]
Being one of the world's most experienced movie director, Late Yash Chopraji has literally grown with the movies, and so has grown in scale his celebration of romance. In Jab Tak Hai Jaan, he is in a celebratory mood, where he celebrates his experiences  drama, romance, emotions, beauty and of course- women. He literally celebrates cinema in the grandest possible sense. Known as the 'last' Yash Chopra offering, the movie is bound to carry a baggage of expectations and hype, but lets just walk beyond them and allow its innocent soul to enchant you.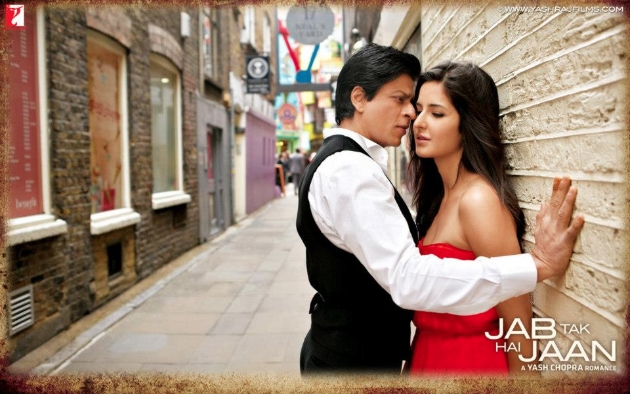 Yes, Jab Tak Hai Jaan is one heart-to-heart tale which definitely quenches the viewers' thirst for love. It promises to be an out and out romantic venture, and essentially belongs to the old school. And that is why it stands out in today's time. Film constantly keeps on compairing the new Gen-X world with the last generation, by maintaining the settings contemporary but the values quite traditional. For example, if hero Samar Anand (Shah Rukh Khan) plays guitar and mouths Punjabi songs, he actually narrates his search for love; If heroine Meera (Katrina Kaif) does a typical British dance, it actually helps her to open up; and if they both are making out in a certain telecom booth while raining, they represent the lovers who are unaware of the outer world being in love. First half is exclusively about romance and the evolution of love, that larger than life romance feels pleasant which was out of the scene from the films for several years, while the second-half is extremely dramatic boasting quite many twists and turns coming your way.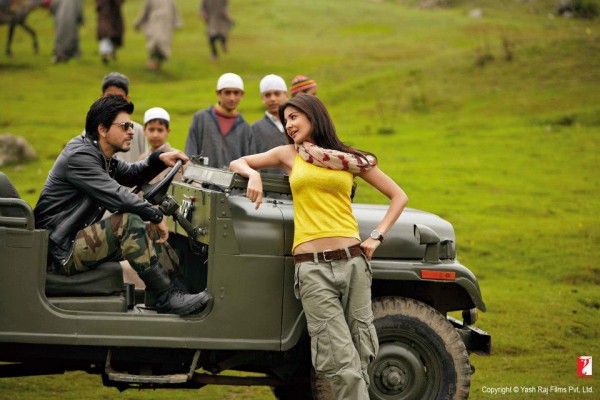 Yash Chopra yet again proved that no one could touch him when it comes to presenting a woman. Take Meera's beauty and sacrifices or look at Akira's (Anushka Sharma) boldness and emotional tussle. It helps the other downers like SRK looking old, Katrina cant cry and a slow pace to get benefits of doubt. Casting is almost perfect so is the technical department and production value. Shah Rukh Khan is outstanding in both the versions of his character, one as a man who can not die and other as a charming lover. Katrina Kaif looks dream-like, and delivers her best performance to date. SRK-Kat share a sizzling chemisty and literally set the screen on fire. Anushka Sharma is extremely lovable and has proved her mettle yet again. Sharib Haashmi as Zain has done a good job, while Rishi Kapoor and Neetu Singh are pleasant in significant cameos.
A. R. Rehman has delivered a soothing musical score with the tinge of intensity and Gulzar's lyrics give it an edge. The poem in the beginning carries essence of the entire movie, and keeps proving its significant throughout. There are many many scenes which leave a strong impact. It is long yet intense. A total misfit in today's run of mill kind of stories, yet a stand out. It is innocent, disharming yet very mature. It is about 'Good' people who come across difficult situations, where circumstances are villain, and the film is always about the triumph over the villains. Go, experience this triumph with your loved ones. Summarizing the above – A perfect romantic farewell for the creator of love.