Cast: Vijay, Kajal Agrawal, Vidyut Jamwal Directed by: A R Murugadoss [highlight]Overall Rating: 3.5/5[/highlight][divider]
One firecracker of a movie to brighten up the screens this Diwali, A.R Murugadoss's Thuppakki is more than just bang bang, with style and intelligence sewn deftly in this strong racy, and surprisingly original script. With anticipation running strong with this flick, what with Vijay's ever growing fan base, the first day first show viewers won't regret investing capital on this fully-loaded entertainer.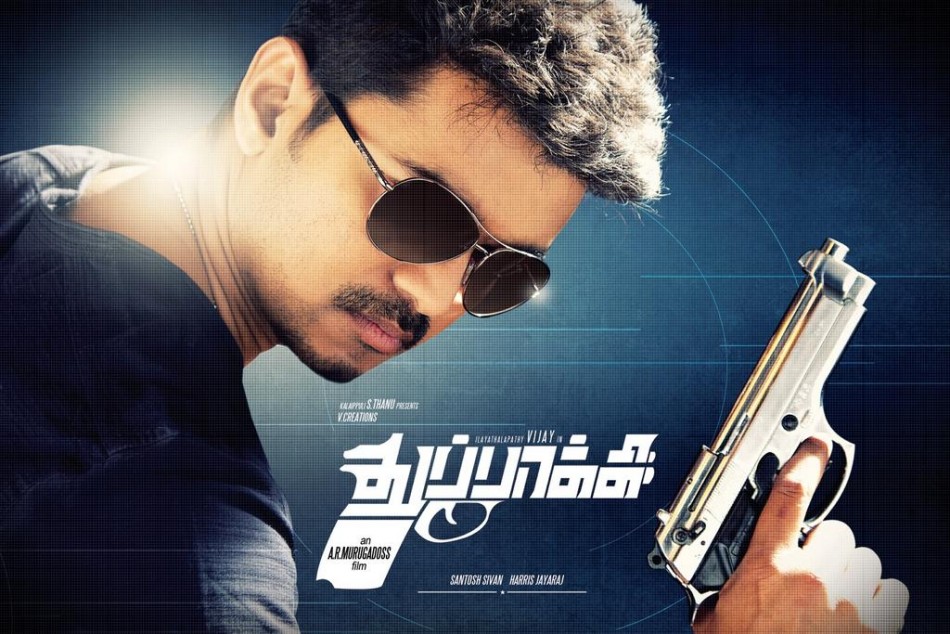 Jagdish (played by Vijay), a secret agent with the DIA (Defence Intelligence Agency), returns home in Mumbai to enjoy the 40-day long vacation with his parents and sisters. Once home, he finds that his folks have arranged a girl for his marriage- enter Kajal Agrawal as Nisha- and after the regular chain of spats he finally loses his heart to her. Meanwhile, bomb blasts in buses rock Mumbai, and Jagdish sets out on a mission to hunt the people behind these terror acts. Out to eradicate the terrorist sleeper cells, how he saves Mumbai and makes it all a 'happily ever after' affair again is what the rest of the movie about.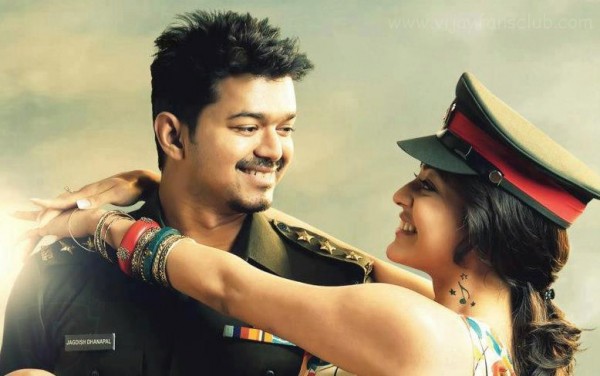 Vijay is the heart and soul of the film, and has given the viewers his best meat. He adds up a sparkly energy to his secret agent portrayal, and is quite believable in the various transitional phases in the film. The next in line in this list of honor is definitely  Vidyut Jamwal playing the baddie, and the at-mouse act between Vijay and Vidyut maintains the entertainment quotient of the film on the higher side. Kajal Agrawal peps up the glamour, but doesn't add any value to the story as such. Sathyam and Jayaram do justice to their respective roles. Santhosh Sivan's cinematography adds more ammo to the beautiful visuals, as if the camera is set out to make love with anything that comes its way, and Harris Jayaraj's music, though not innovative, is still catchy- with the 'Google Google' track being my personal favorite. While the first half does well to build up the story, it's the second half that truly crowns logic, intelligence and entertainment in the full glory.
Saluting the army for what it is, Thuppakki is one weapon I won't mind reloading again. Gratifying in so many different levels, missing this gem would be nothing less of a crime. Highly recommended!