When someone asked- " Whose brain worked faster than a computer?", pat came a reply- "Chacha Chaudhari". Meet this new guy join this brigade – Mickey (Manish Paul), a hacker with sloppy, frivolous, devil-may-care attitude but a sharp and street-smart brain! A grocery-shop owner during the day, he was a virus creator for the anti-virus companies by night along with his funny comrades, Floppy (Raghav) and Chutney ( Puja) who helped him in his work. His sharp mind is once again needed when he is beckoned by ACP Siddhant (Manish Chaudhari) and Inspector Bhalla (Varun Badola) to solve a tricky cyber-crime case where hackers were killed under mysterious circumstances. Amidst all tamasha, Micky is stuck with a cupid -virus when he meets a pretty damsel Kamayani (Elli) and thus start his typical Delhiwala Deewana act of following her like a love-stuck puppy and pining and singing songs to woo her. On the other hand, the case gets even more intense with lots of complications. With so much on his disk, Mickey strives to win Kamayani's love and work on this deadly case without CTRL+ALT+ DEL.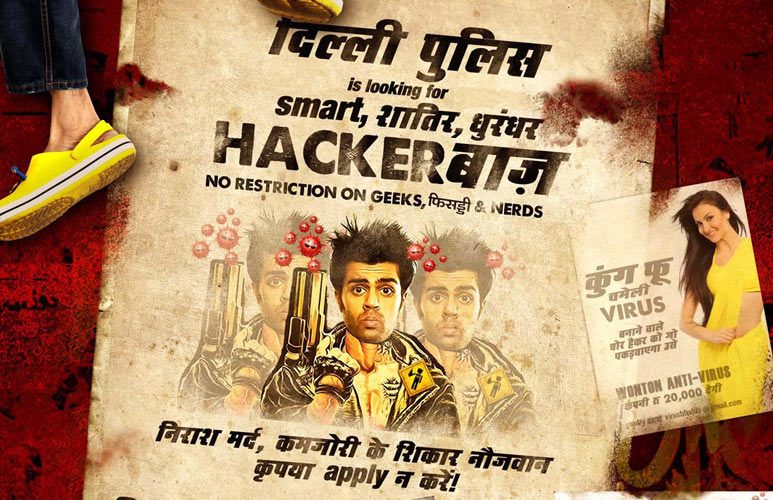 Debutant Manish Paul is perfect for this role and steps in the shoe if his character perfectly. His dialogue delivery with a tinge of Delhi-wali accent is commendable. So is his comic sense which is shown in the film well. His pal Chutney is very lovable in her role while Floppy tickles your funny bone. Elli is seen roaming like an angel with parqueting steps and is simply an Eye candy. No doubt, she needs to brush up her acting skills but her cuteness made up for her acting and expressions. Hats off to Varun Badola for his funny inspector performance as he not only makes you laugh with his confused attitude ( He thinks hacker and hawker are same!!) but delivers his dialogues in a impressive way. Not to forget ACP Siddhant for his performance. He was apt for the role and his act was well delivered.
Although, the film had several directional shortcomings, the storyline was fun and uncomplicated (unlike the viruses). There are a few sequences which make the audience laugh and enjoy the film. The music was good but it was the performance of the actors that made the film watchable. Mickey Virus is a light-hearted dramedy for a lazy Saturday afternoon. You may consider watching it.
Overall rating: 3/5