Cast: Saqib Saleem, Ram Kapoor, Ravi Kishan, Rhea Chakraborty Directed by: Ashima Chibbar [highlight]Overall Rating: 3/5[/highlight][divider]
Opulent marriage halls, heavy decors, finger-licking food, Band Baaja aur Baraat, and all sorts of glitz and glamour are the essential ingredients of a BIG FAT INDIAN (read PUNJABI) wedding. And above all, a little ghapla by the bride's brother toh banta hai yaar!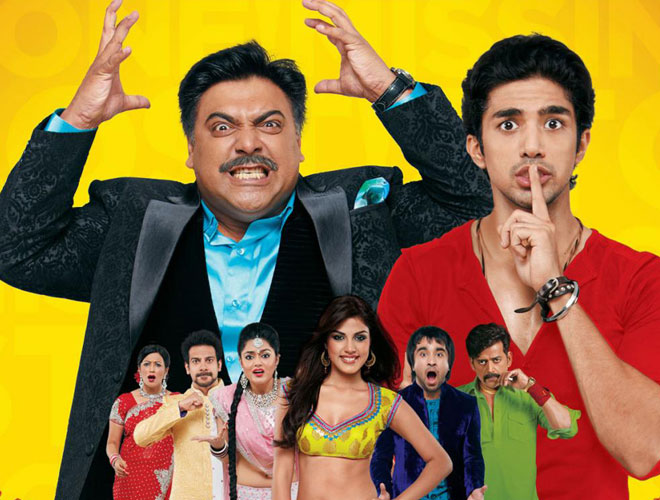 Welcome to this happy and gay Punjabi family in Chandigarh headed by a rotund Papaji (Ram kapoor), whose aim is to get his darling daughter married off in a grand style.But hell breaks loose when his younger son Sameer (Saqib Saleem) steals the brand new Maruti car which was supposed to be the dowry, to impress his college hot chick Jasleen (Rhea Chakraborty), and the car goes missing!
Debutante director Ashima Chibber does an exellent job by creating a movie which is a cocktail of laughter, jokes and father-son relationship. A series of events unfold which make you laugh your guts out with son hiding the truth from the family in a comical way and Ram Kapoor's outburst on listening the truth! Many of his one liners make you laugh and and the plot catches speed in the second half. The music is peppy with "PUNJABBI KI BATTERY CHARGE HOTI HAI" song being a hit.
Actor Saqib Saleem of Mujhse Fraandship Karoge fame does an awesome job of a spoilt yet funny son, and Kudos to Ram Kapoor for enacting Mr. Khullar to perfection and yes, his jazzy dance moves can't be missed. Rhea Chakraborty, the MTV VJ, is cute and a hottie while Ravi Kishan has got very less to do! At the end adios to that cute Maruti whose disappearance makes us glued to our seats. This heart-lightening film is a good main-course with lots of ice creams for dessert this approaching summer.
Section-wise rating below: