Indian Space Research Organization's Mars Orbiter Mission (MOM) shall be launched on October 28, 2013, following the national committee of experts' approval to the Rs 450 crore project. The committee chaired by former ISRO Chief U R Rao had heavy discussions over two days (Thursday and Friday) and reviewed the status of the mission after senior ISRO scientists delivered an in-depth presentation. Rao has had a major role to play in the selection of the five scientific instruments that shall fly on MOM. The launch shall take place from Sriharikota between 3.30pm and 4pm. The mission is under constant supervision as of now.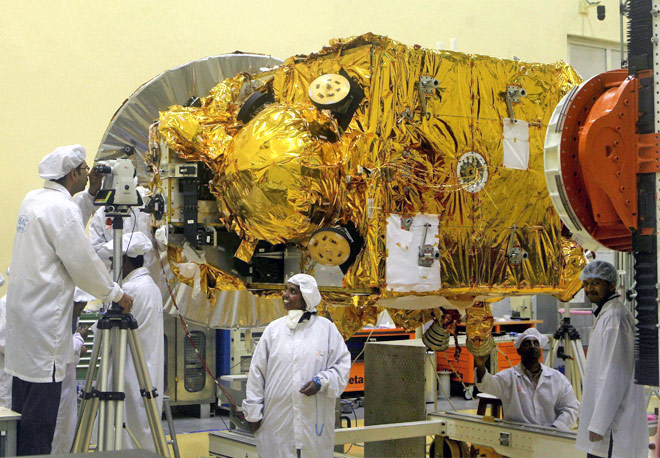 The Mars orbiter has had rigorous pre-launch tests at ISRO's satellite center based in Bangalore, and shall be moved to Sriharikota on September 30th for its integration with the advanced version of the 4-stage Polar Satellite Launch Vehicle (PSLV), also called PSLV-XL. The pre-shipment review is scheduled for September 26th.
With a large section of national and international media is expected to cover the launch, but in Chennai (which is just a 2.5 hour drive from Sriharikota), hotels are flooded with inquiries regarding availability of rooms and per-day charges.
NASA's Curiosity Rover discovered that there's no methane on Mars, which as per Rao, means nothing and is of 'little significance'. He stressed over the point that NASA's announcement in no way implied that the Indian mission was irrelevant. His statement draws gravity in the fact that one of the five instruments flying in MOM is a methane sensor, designed to measure the quantity of methane in Martian atmosphere and locate its sources. The methane sensor was developed at ISRO's Ahmedabad-based Space Application Centre. Rao added, "It had always been stated that the moon was bone dry and there was no water. But, our lunar mission Chandrayaan-1 attained a major breakthrough and found water on the moon. Similarly, our Mars mission will achieve something similar."
Syed Maqbool Ahmed, the scientist behind Chandra Altitudinal Composition Explorer (CHACE) on board Chandrayaan-1's Moon Impact Probe which found water on the moon shared Rao's view-point. He said, "Depending upon the prevailing conditions, the instruments of MOM which are a heritage class of Chandrayaan-1 may certainly give a chance to measure elusive methane."
The launch campaign has already commenced at the Sriharikota spaceport from where the 1350kg MOM spacecraft Mangalyaan is to be launched. The initial stage of PSLV-C25 with strap-on has been assembled, while the rocket's being readied for satellite integration by October 10th. Once the spacecraft leaves the earth's orbit, it shall move in deep space for nearly ten months using its own propulsion system and shall reach Martian transfer trajectory by September 2014. The craft is expected to enter into a 372 km by 80,000 km elliptical orbit around Mars.