When it comes to new companies and start-ups, one of the fastest booming domains in India is the field of e-commerce. Whenever the common man thinks of e-commerce websites, the only names that come to the minds are Amazon, Flipkart, Snapdeal etc. that millions access very frequently. Everything from groceries to hairpins and second-hand automobiles to furniture is being sold online to Indian consumers. But when we take a step forward and look at the e-commerce platform from a business perspective, we just see the tip of the iceberg called e-commerce for businesses. One such company that has been really able to make its mark nationwide is mjunction. Founded in February 2001, it is today not only India's largest eCommerce company (having eTransacted worth over Rs.2,00,000 crores till date) but also runs the world's largest eMarketplace for steel. The book 'Intrapreneurs @ mjunction' penned by Dr. (Col.) Rajeev Kumar is a glimpse into the world of mjunction. The book chronicles the story of mjunction, right from the time of its inception. Starting out with a team of less than six people at inception, today more than 500 people from different professional and academic backgrounds are working on growing the company at a scorching pace. A chance to read the story behind this gigantic success is a treat for startup owners, CEOs and anyone enthusiastic about the e-commerce scenario in India. In the book, "Intrapreneurs @ mjunction", we get to read the behind-the-scenes version of the tale of how, in the space of just 14 years, mjunction services was able to establish a national footprint.
To give you a glimpse of the storyline, Intrapreneurs @ mjunction is a book that begins at the moment when Dr J.J. Irani, erstwhile MD, Tata Steel saw a clipping in The Hindu, Delhi edition of 13 October 2000 of a report titled, "Steel Portal from Mahindra Group" and asked Viresh Oberoi, the designated CEO of the new joint venture with Steel Authority of India Limited (SAIL) – metaljunction.com Private Limited, "Are we being left behind? I believe that jointly with SAIL, we can offer much more."  This was a time when iron ore trading and selling had many loopholes. Buying and selling iron and coal was done under huge losses both to companies and the Government of India. Therefore, Viresh Oberoi took up the task of building a single platform that eliminates the middleman, brings transparency and convenience to the process and build a trust factor among buyers and sellers.And thus mjunction was formed. From humble beginnings – the company began as a 50:50 venture promoted by Tata Steel and SAIL – mjunction rose to become world's biggest e-marketplace for steel. Since they had the power of strong knowledge of the steel industry, Oberoi and his team built an improved supply chain on both ends. They thought if you can help companies to sell, why not help them buy the raw materials too. At that time, Coal India was running in heavy losses after being nationalised. That's when mjunction came into picture and recovered them from heavy losses.
The book 'Intrapreneurs @ mjunction' also talks of how the company went on to build autojunction, valuejunction, financejunction and even straight line for consumer product space. There is also information about how mjunction started an incubation cell to boost innovative ideas and one such project was the procurement of tea. The book not only captures how beautifully how one innovation led to another with technology at its backbone, but also speaks of the mettle of the men behind the huge company.  Dr. Rajeev Kumar on his part left no stone unturned in capturing the essence of what mjunction stood for and how supply chains were cleaned up through competitive bidding.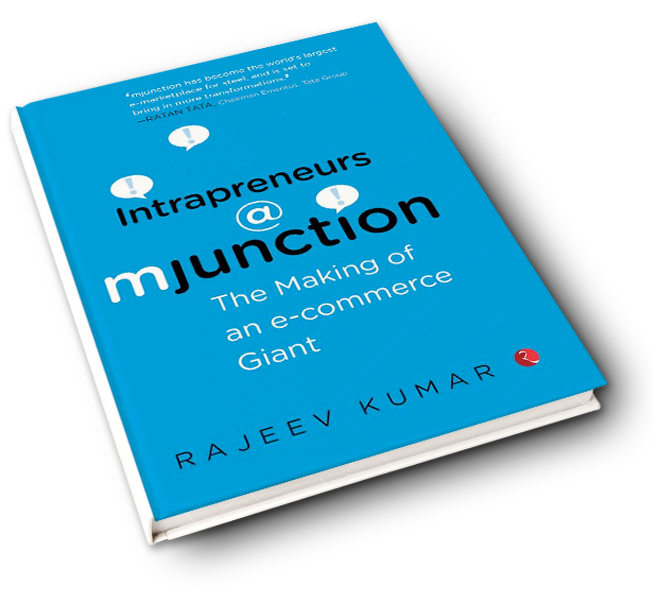 The company after creating a strong hold in the B2B segment that has focused marketing, easier to train mechanisms, went on to enter the B2C segment as well. They found tremendous new opportunities there as well. Today, the mjunction success story has been converted into a case study at IIM Kolkata and London School of Economics and Political Science. The book Intrapreneurs @ mjunction has been released for the clients, customers and audience understand the company and its policies better. Any person studying the intuition, analytics and management of the business personnel will find great lessons in the book. The exponential growth of the company year after year is motivating and the social and economic development activities conducted by mjunction through CSR are inspiring.
We recommend this book to anyone trying to understand how a single company re-engineered the buying and selling process of metal and coal on a single platform from scratch. The tale of how mjunction was run on solid business principles is a treat for the young entrepreneurial minds. India urgently needs business leaders who can unleash the power of intrapreneurship to grow their organisations as well as the nation's economy and if you are one of those who want to bring about the change in the world, we highly recommend this book to be one next on your bookshelf.
Overall Rating : 4/5
You may purchase the book here – 

About the Author –
Dr. Rajeev Kumar, ABC* is a specialist in organizational communication management. A PhD in Organizational Communication from the Tata Institute of Social Sciences, Mumbai, he was a Fulbright Doctoral Research Fellow at Texas A&M University, USA. Until 2006, he served the Indian Army as a Colonel. Thereafter, he has worked as Senior Practice Consultant at Tata Management Training Centre; Professor in Organizational Behaviour at Goa Institute of Management; and Head of Learning and Development at Larsen and Toubro. Currently, he is General Manager, Learning and Development, at Tata Group Corporate Communication and is also the Vice Chair of the inaugural Global Communication Certification Council set up by the International Association of Business Communicators (IABC).
*ABC stands for Internationally Accredited Business Communicator.