I consider myself lucky to be born in the 90s. I grew up with Harry Potter, I was the last generation to be kids before the internet happened, and I got to be a witness to a radical change in the Indian movie industry, but this time for the better. But the fact that I got to watch Christopher Nolan's movies in theatres when they come out will be the gift I will always be most grateful for. I have been a huge Nolan fan since I saw Batman Begins and Memento for the first time some 8 years back, and barring a mishit in The Dark Knight Rises, this man definitely has the most enviable filmography in the world, apart from John Cazale maybe.
Interstellar, on the other hand, while seeming a tasty prospect, wasn't a film I was highly excited about. The trailer didn't excite me in the way Nolan's movies usually do, and having not watched Dallas Buyers Club and not enjoying True Detective, I don't consider myself a part of the McConnaisance brigade either. Plus the reviews that have been pouring in have been more cynical than you'd expect for a Nolan movie.
Which is bullshit to tell you the truth. When a man tries to aim for the stars, it doesn't matter if his spaceship has a few dents on the exterior. Yes the film has flaws. Yes the first 60 minutes will leave you terribly disappointed. Yes Anne Hathaway will leave you terribly disappointed. Yes you wouldn't be able to fully understand the science behind the scene in the first viewing.
But yes, the next two hours will more than make up for it. But yes, Matthew McConaughey and Jessica Chastain will make you care for them more than you even care for the survival of humankind. But yes, you will feel every emotion flowing through your veins.
Earth is turning into a dust bowl, and the only way out is, well, out. When a wormhole is discovered near Saturn, NASA makes a last ditch attempt to send a team to find answers that can solve their problems and extend the lineage of homosapiens. This includes former pilot Jesse Cooper (Matthew McConaughey), scientist Amelia Brand (Anne Hathaway) and other humans and robots that are there so that they can die after every pulsating scene. When they seem nearer than expected to the answers they need, they uncover that things are not exactly what they seem.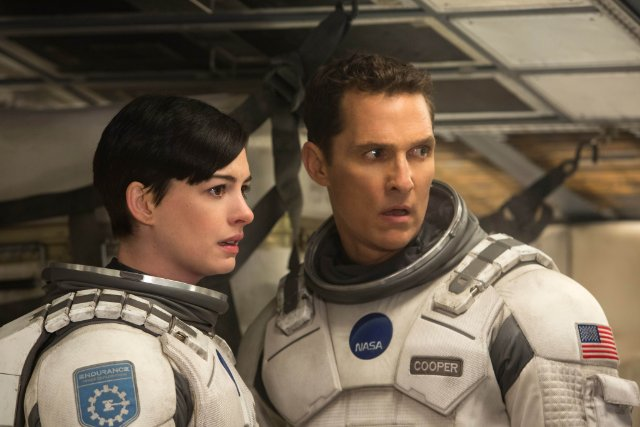 Now one thing is very clear, in Nolan our generation has a master who is never satisfied with the work he has done. After he was done establishing a Batman reboot that turned the superhero genre for the better, he chased dreams, literally, in Inception. And now, with all the space and time in his hand, he went for the Theory of Relativity and made it sound cool. And he is superbly aided by the cinematographer Hoyte van Hoytema (who also worked on my favorite movie last year 'Her') and Nolan regular Hans Zimmer, who should win an Oscar for Interstellar. The music score, breathtaking to say the least, is also very inventive.
In a recent write-up about Nolan in Guardian, the director declared, "What I've found is, people who let my films wash over them – who don't treat it like a crossword puzzle, or like there is a test afterwards – they get the most out of the film." Please remember this rule while watching it for the first time. Let's keep the discussions for the second viewing instead.
Overall Rating – 5/5