Big Hero 6 is Disney's amazing debut in the superhero genre, digging into Marvel's cellar for adapting the comic series of the same title. There are robots lashing out in all shapes and sizes, super-gadgets and laser beams you always wanted to try, and amazing friends you could do anything for. The film practically has everything you ever wanted as a kid. Directed by Don Hall (Winnie The Pooh) and Chris Williams (Bolt!), this is a superhero-origin story that subtly wraps in the moralities of friendship, the dread of loss, and the regret of damage which can never really be mended. The script is pretty simple and straightforward, and it's the grandness of the way it has been told that will blow away your mind. Without being preachy, thankfully.
The story's based in San Fransokyo – a futuristic cultural cross-over between San-Francisco and Tokyo – which is an excitingly huge new world where everything is a mash of American and Japanese. The script follows Hiro Hamada, a fourteen-year-old geek-cum-genius, who spends his maximum time in pay-to-play underground robot battles. His elder brother Tadashi, the good-at-heart and equally as genius as Hiro, realizes he could do so much more with his skills, and to hone the same he invites Hiro to his lab at the San Fransokyo Institute of Technology. Here Hiro meets Tadashi's other geek friends – GoGo Tamago, Wasabi, Honey Lemon, and Fred. And of course the huggable Baymax, who's being designed to be a robot doctor, who has this punchline "Are you satisfied with your care?", which is bound to be as famous as "I AM GROOT."
But, getting into this college is not a piece of cake of Hiro, for the university needs him to come up with something that simply wows the professor. Hiro's 'wow' response are microbots that can be controlled by thought, which come together to form anything your mind can think of. Hiro maintains that these microbots could be applied in several fields like construction/transportation, and Hiro's demo of these potential possibilities makes up for one of the best scenes in the film. He makes it to college, and effortlessly blends in the program Tadashi's working in. A catastrophe comes calling in a masked man named Yokai (the scariest villain to have entered Disney's world ever) and pretty soon these bunch of kids have formed a superhero team ready to take the adversity head-on.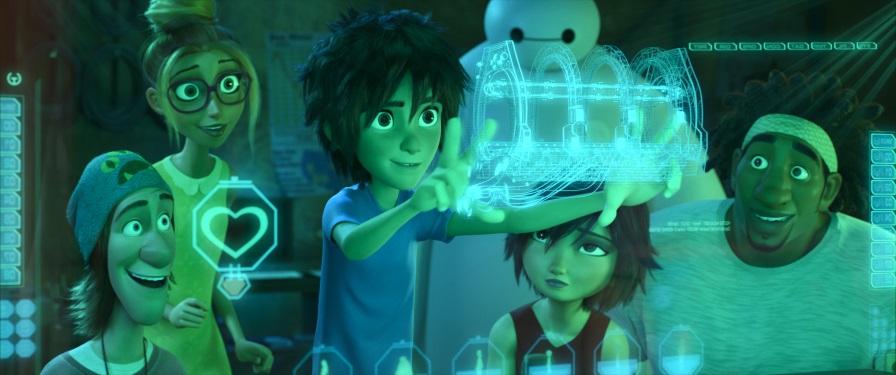 The star of the film is definitely robot Baymax, the lovable squeezo-bot who can diagnose your health via a laser body scan. It's his transition from being just a marshmellow like bot to the life-saving superhero that's drool worthy. All the robots in the film have a touch of futuristic but convincing technology, partly as they're designed on real robots being developed in the labs of MIT, DARPA, Carnegie Mellon and make use of present tech like 3D-printing. The charm of the film is the human traits incorporated into these robots owing to their human operators – Hiro and friends.
Big Hero 6 dishes out large scoops of humour You don't mind excusing the cliches for the hilarity it comes surrounded with. There is perfect balance among the ups and downs in the film, and the emotional transition is smooth and easy. The robot-fights doesn't frustrate, and it isn't too noisy as in Transfromers. The locales are brilliant, the lighting used in the animation too. Apparently Disney has built a new technology for this film from scratch, and seeing how well the animations and effects have been rendered, seems like the gamble has definitely paid off.
Big Hero 6 packs every lesson a child must learn – on life, friendship and success. It's one of the best animated motion picture to have released this year, and I'd recommend you give it a see in 2D.
Overall Rating : 4/5