I had a dream, which yet remains a dream, but Saransh Goila lived it. Not only did he manage to travel throughout India, he even managed to document his experiences with the local folks, their culture and most importantly, the local food. When I first held this beautiful book that talks of travel and food, I knew lying in my hand is a very ambitious and accomplished product. A few pages into it, and I found that ambition to be true. What makes this travelogue cum food-memoir even richer is that it's been authored by an Indian chef who finds himself in the Limca Book Of Records for hosting the food travelogue show and the 'longest road journey by a chef' – Roti, Rasta aur India on FoodFood channel.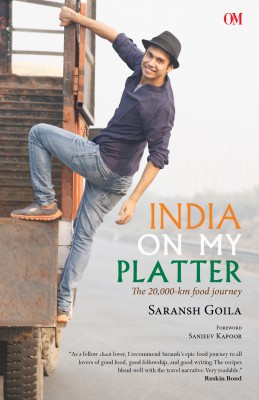 The book starts off from Delhi, where the author first travels and documents the roads and foods of the North, gradually travelling to the West and the South, then coming back to central India before setting off to the East, finally finishing back to where he started – Delhi. Countless personal road experiences and countless food stories across 60 cities in India. That's really something, as most of us don't even manage to embark upon such a journey in an entire lifetime, while he achieved this feat it in a mere 100 days. There are photographs included in the book which speak volumes of how awesome a journey the author ventured into. My personal favorites are the images from Ladakh and Srinagar, and also of the author chatting with a pehelwan discussing the benefits of almond milk.
Being a travelogue, the book's written in first person narrative, and has a very distinctive personal touch. The chapters are smart and short and not fruitlessly stretched. There are several recipes included in the book as well. I went ahead and cooked up the Chocolate pakoras the author shared from Choco La in Puducherry, and they tasted yum! Took me a couple of hours to prepare it, but the invested time was totally worth it. Will try other vegetarian recipes soon.
A great journey becomes epic when complemented with amazing locales and good companions, and while locales and companions may not always be present, you may totally rely on this book to direct you towards mouth-watering food. If you're a foodie, a traveler, and by any chance a reader, this is a book you should totally bite in. Talk of sweet tooth.
Overall Rating : 4/5
You may purchase the book from Flipkart here : 

Featured Image Source : Flickr (Labelled for reuse with modification – Google Images)