It must have been a really daunting task for Anuja Chauhan to live up to the expectations of her readers after her successful novel 'Those Pricey Thakur Girls' which instantly found liking and support from Indians in the country and abroad. When she announced that a sequel is underway, my hopes were set at a quite a high level. I especially ranked it higher than others in her genre because the Thakur girls could really tickle by funny bones without much effort with their quirky nature and the much-loved family dynamics. I guess it was the witty dialogues that stole the show there. And thankfully, it didn't comes as much of a surprise when 'The house that BJ built' came and stole my heart again.
The plot is essentially something that lets your imagination run wild. It's ripe with sisterly love and if you love tales with bit of a family history and live on the spur of the moment kind of arena, you will enjoy the 'The House That BJ Built' thoroughly.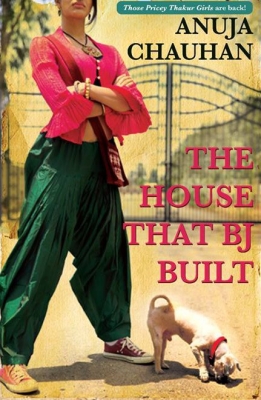 The late Binodini Thakur wasn't happy even about the idea of selling her part of the holdings in her Bauji's big old house on Hailey Road. To respect her wishes, Binodini's daughter Bonu has decided not to budge. However, here not one, but four pushy aunts are insisting that she sell. What results from this insistence is a laughter riot. It won't be wrong to call Anuja Chauhan the 'Tina Fey' of Indian literature. The light fiction coupled with the madcap craziness of the Thakur household will keep you hooked to the end. If your family's a little crazy, you would know what happens when things go haywire and the result is a total blockbuster roller coaster ride.
At times in the book, you feel there is no need of so much Hinglish. Indian readers are accustomed to that style of writing, but I thought the book wouldn't have lost its flavor even if it used pure, plain English. So, that's there.
Overall, the character build up, interesting plot line, the way it's all summed up and how a house brings a love story to life amidst all the chaos is worth experiencing once.
Overall Rating: 3.5/5
You may purchase the book here.