Rashmi Bansal's 'Stay Hungry, Stay Foolish', 'Connect The Dots', 'I Have A Dream' and other similar books might have pumped up the hot entrepreneurial blood in you in past. But if you've run out of steam, then grab a copy of Take Me Home at the earliest. This one's yet another box-full of inspiration from the shelves of the celebrated author. It's a collection of twenty stories of success carefully selected, some of which belong to remote corners of India.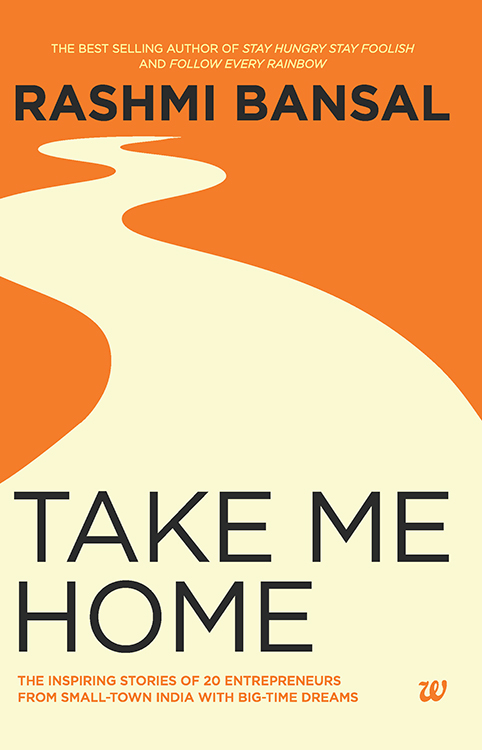 Take Me Home walks you through lives of 20 entrepreneurs from small towns who dared to dream big. Clearly, Bansal's covered stretches of India to handpick these inspiring stories and hence you'll find that most names (or maybe all) were never heard of. She talks about how they wove ideas and conceived them, the challenges they faced and well doesn't forget to highlight the qualities that these 'ordinary' people possessed which put them on the top.
The style is classic Rashmi Bansal- simple and interesting. The dreams of the many entrepreneurs make ink to this book, and more than the simplicity of the language (which makes it easy for the average reader to skim through without much hassle), it's the choice of stories that have been plucked which makes this book even more interesting. The research and detail that has gone in composing the stories are quite visible, and the effort is commendable. Graduates, drop-outs, professionals – the book deals them all. They all had a dream they believed in, and more than dreamers they were enablers who didn't bog down to external pressures. And I guess that does make all the difference.
Overall Rating : 4/5
You may purchase the book from Flipkart here : 

About the author:
Rashmi Bansal is an Indian writer, youth expert and entrepreneur. She has written five other books: Stay Hungry, Stay Foolish, Connect The Dots, I Have A Dream, Poor Little Rich Slum and Follow Every Rainbow.
Ms. Bansal has also co-founded JAM (Just Another Magazine) and is currently the editor. A regular contributor to Businessworld, she writes frequently on youth, careers and entrepreneurship on her blog Youth Curry.