"My elders answered my questions about what life held for me; I chose the path where I questioned their answers."
Most people know Bina Ramani for playing the significant part in the most-public case of the 1999 Murder of the model Jessica Lal in a crowded party. Bina Ramani, the then so-called socialite and fashion designer who allegedly had contacts in high places and whose daughter knew Jessica Lal as a fellow-model, has grown in popularity in a variety of roles – Be it an entrepreneur or a social worker, a restaurateur to a visionary and even as a socialite and an agony aunt. The life and times of Bina Ramani is largely a tale about the way it was showcased. If it had not been for this autobiography, we would never have gotten a rare glimpse into her real story. 'Bird in a Banyan Tree' is a book that if you choose to judge by the cover, are bound to get interested in.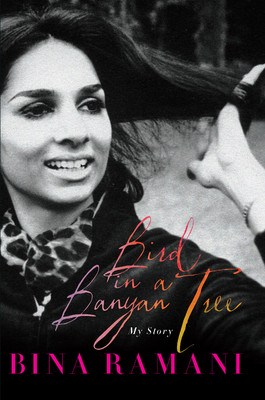 On the cover, the book will tell you about how Bina Ramani arrived as a refugee child in India during partition and how several years late she had a successful electronics brand named after her. In a lifetime that has made her face a passionate relationship with the Bollywood star Shammi Kapoor to being an entrepreneur and opening her own stores and changing the face of Delhi's Hauz Khas Village, Bina Ramani's life is nothing short of a movie script. It has the elements of emotions that you can find in any leading-lady story that wants its viewers to cry and smile through it all. Bina Ramani has also shed light on how she searched for her daughters across continents and how she spent her time at the Tihar Jail.
The story is a short and concise account of the rather tumultuous journey. Editing the book to only include the most relevant parts has been a job well done. The writing style used in the book is quite descriptive and brings elements to life. Throughout the story, you will notice that Ms. Ramani has made no attempt to glorify or vilify her own character. Neither is she a been-there-done-that winner or a damsel in distress. An attempt has been made to make the book true to its core. Female readers will be able to connect with the naivety of actions and decisions and find her as vulnerable as any other woman in trying times.
The book isn't just about her. It sheds light on all the leading men and women in her life who have in some way influenced her life and career. A lot of Shammi fans will be in for a surprise here – to find out about the details from his personal life and how he hated his brand image and loved western classical music, philosophy as well as history. The accounts in the story where she has so aptly described the people and places from the post-independent India era is commendable. Out and out, the book is a great read. If you love autobiographies, this one is a must-have and should be a part of your list on your next buys.
Overall Rating – 3.5/5
You may buy this book from Flipkart here: 

About the Author –
BINA RAMANI divides her time between New Delhi, Goa and New York and enjoys exploring the cultural roots of people of all races. She is passionate about Sufi music, painting, photography, travel, cooking and other good things of life. She currently works with the rehabilitation of child victims of sexual abuse and networks with exceptional women in an effort to empower underprivileged women across the globe.