Philosophy of Highway
Highway is a journey of a captor and captive who are both connected together with a past of anguish and helplessness,whose unheard innocent screams echo through time falling on deaf and hypocritical ears. The lead pair is not in quintessential love but rather have an uncanny understanding of mutual pain which brings them close to each other and in their bonding they find their true freedom.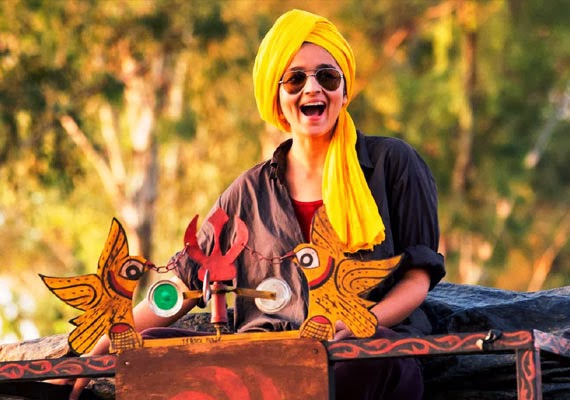 Story and Direction
The beauty of highway lies in the characters and their evolution in the journey they embark on ,the more you think about the not so straightforward  characterization the more you fall in love with the characters and the movie. Imtiaz Ali has put incredible details in the characters which make them real characters whom you will always remember and when a storyteller is able to carve out a character with flesh and bones then it  is a definite win for him.We have seen in the Past also how beautifully Imtiaz Ali carves characters who feel as real as any live person we know; Jordan from 'Rockstar' , 'Heer' from 'Jab we met' and now 'Veera' and 'Mahabir' in 'Highway'. For Imtiaz the writer it's a definite win.
Highway is a brave attempt by Imitiaz Ali  as a director. He delivers some really unconventional shots filled with monologues and muted sequences perfectly blended with the soulful music by A.R Rahman but he falters in making the transition of 'Veera' from a frightened captive to a relaxed roadie enjoying the company of the captors ,realistic and believable. It just happens too easily and quickly .I felt that transition needed more weight in order to feel convincing.
Cinematography and Music
Anil Mehta's cinematography is poetic and one of the high points of the movie.He captures the scenic locations with grace and with A.R Rahmans music in the background the already charmed shots feel magical. I could watch 'Highway' again only to embrace those  dreamlike sequences .
The cinematography reminded me of 'Life of Pi'.
Performances
There is only word needed to describe the performances in 'Highway', 'TERRIFIC'. 'Randeep Hooda' is a seasoned actor and it was expected of him to perform in a 'Imtiaz Ali' movie and he did. His perfect 'Haryanvi' accent brings authenticity to the portrayal of a brutal jatt. Observe his body language/expressions evolve throughout the journey to realize what a brilliant job he has done as an actor.
The surprise element in 'Highway' is 'Alia Bhatt' who in just her 2nd assignment delivers a performance which will catapult her to the 'Leauge of Leading Bollywood Ladies'. Brilliant job 'Alia', you are a natural actor and you deserve  to be nominated in all the "Best actor in female category" awards this year. Kudos!
Final Word
Highway is one of those movies which will not get immediate acceptance because to love it you have to give it your time and thought with your philosophical cap on. Over a span of time people will love it,if not today. The characters 'Veera' and 'Mahabir' will stay on with you forever.
It has an unconventional story ,a philosophical core,brilliant performances,extraordinary cinematography and exquisite character detailing.If you believe 'God is in the Details' and you are not busy saving the world then do yourself a favour and watch 'Highway'. Even with its flaws it is lovable.
Overall Rating: 3.5/5 ( *.5 given extra for terrific Alia Bhatt)
What I had expected from the movie: A philosophical journey of finding ones true  freedom in bondage.
Praises: Terrific performance by Alia Bhat, poetic cinematography, exquisite characterization, soulful music.
Complains: Story loses track sometimes which makes it a little weary,transition of Veera not convincing which is a major blockade on this highway.