Oh yes, we have known love, and love again, and different kinds of love, but the tenderness we felt then, we simply cannot put it down..
Childhood love is a beautiful thing. It's mystique, alluring, raw charm is priceless! The story of Marathi movie Fandry set in the backdrop of rural Maharashtra explores this fresh love along with the vehement opposition by the orthodox elders.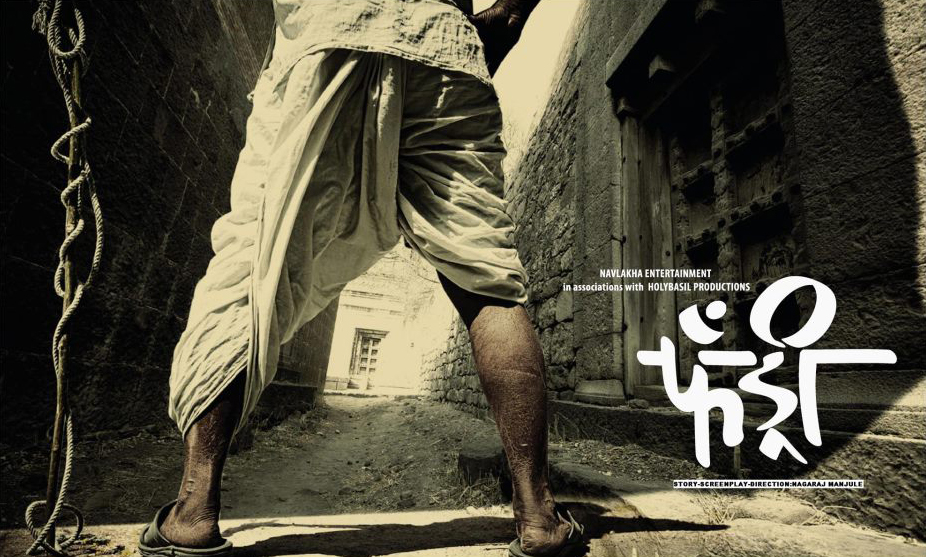 Jabya Mane ( Somnath Awghade), a teenager who belongs to an untouchable caste falls heads over heels in love with his upper cast classmate shalu ( Rajeshwari kharat). Alas! He is no prince charming for the sweet fair-skinned girl as his father (Kishor Kadam) does all the dirty cleaning jobs and taming pigs although he challenges that nobody else can love Shalu the way he does. The love blossoms every second along with the oppressions by the conservative elders who condemn having a inter-caste love. Poor Jabya is confused as he cannot understand the irony of untouchability in this "democratic developing" country. Follow then a series of events which touch the emotional chord of the audience.
The orthodox village's discrimination against poor lower-castes is beautifully portrayed. the scenes are heart-rendering especially the last one which shows Jabya and his family carrying a pig and leaving for someplace passing through the people who tried to eliminate this practice.
The irony of this society is portrayed well. The cinematography is beautiful and the protagonists lift the entire film over their talented shoulders- Kudos to them! Both Rajeshwari and Somnath get into the shoes of their characters well. Their dialogues are powerful and delivered in a raw way bringing in a rustic feeling. Kishor Kadam and Chhaya Kadam are superb as the oppressed workers. The film has a perfect mix of pain with love and innocence. Beautiful concept, beautiful portrayal, beautiful film. Thumbs up!
Overall Rating : 4/5