The elections are over and we are awaiting our achhe din under the Namo's chhatra chhaya, yet one thing that is repeatedly being discussed and questioned is – how much of Modi's success can be attributed to his advertising and marketing strategies? If you have been part of this discourse and are wondering about the nuances of advertising and marketing, Heart, Mind and Wallet by Ankur Ashta is the book for you.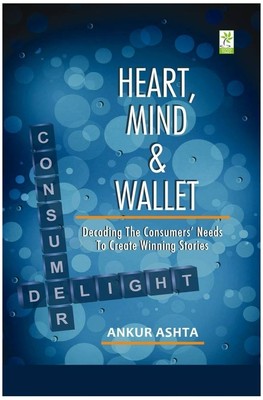 A fleeting read, best part of the book being its simplicity and brevity. One need not be an aspiring marketing professional or an MBA to read and understand this book; anyone who has enjoyed and admired the power of smart advertising can. Ankur has written a well researched book, replete with examples and case studies. Ankur has explained the consumer insights and behavioural pattern with the help of the famous pleasure-pain principle by Sigmund Freud. As one reads those examples, one feels both amused and mocked. Amused at how such simple insights of human behaviour can define the success of a brand, and mocked as one becomes aware of one's own obliviousness to such conspicable attributes. Examples of Ice-cream push carts, Liril, HDFC ATM cards illustrate the thought process that goes behind developing business strategies. Dainik Bhaskar example showed that it not the consumer who is the king, but the one who has the power to understand consumers as the real kings.
Though a lot of stuff is borrowed and cited from other books, it's kneaded well and comes off well structured. These books include Sheena Iyengar's The Art of Choosing, Dan Ariels's Predictably Irrational, Rama Bijapurkar's We Are Like That Only and Porus Munshi's Making Breakthrough Innovation Happen. I have read many a books underscoring the importance of consumer insights, so for me, the distinguishing feature of this book is the chapter on Packaging. The case study of Le Sancy soap is chosen aptly and befits the rationale quotient about which author had written in previous chapter. So take up the book, as it's not only informative but also enjoyable and fun to read. After finishing the book, I can not stop myself from browsing the net to find out the insights behind my favourite ads. After all, ye dil maange more!
Overall Rating : 4/5
You may buy this book from Flipkart here –