Fight for your rights, fight against the wrongs, come what may – an ideology that underlines the very spirit of this Gulabi Gang, women of which seek justice and empowerment in their unfortunately patriarchal spheres. These pink-sari clad women vigilantes may look amusing as they fight each other with wooden sticks, but this amusement paves way to a deeper contentment as these women pick the same lathis to fight daily violence against women in the rural parts of India. It doesn't come as a surprise that this concept has become a storyline favorite (Pink Saris, Gulaab Gang), for seriously, there are very few people who'd stand up for what's right, and when they do, they are to be saluted and celebrated. Dirtying their own hands for the betterment of all is not everyone's cup of tea.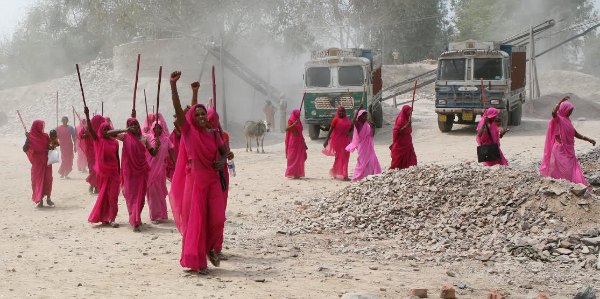 The 1.5 hour long documentary by Nishtha Jain is a tribute to the courage of the gang's founder Sampat Pal, a hero in flesh who has delivered justice to women from corrupt politicians and their respective abusive husbands. It Sampat comes across as a pragmatic personality, one who gets saddened by the extent of ruthlessness shown towards the girls, but the sadness doesn't give rise to disbelief, as these things have become far too common nowadays. Also, she's a woman whose voice gets counted by the authorities.
The documentary even takes into account the richness of fauna in its many dramatic pauses – as women get burned alive, you can see a vulture, a peacock attesting human incapacities. Nishtha has invested about five months time with Pal for this documentary, and has followed the gutsy woman from village to village as she imparts rightful justice. Throughout the narrative, the corruption of human soul is well captured, and the gore and passivity shown shall suffocate you for days to come.
Overall Rating: 4/5