Google today made public its beta support for Hindi handwriting by which user can enjoy a stint with Hindi on his Android/iOS device. Though this is still in an infancy stage, the search biggie claims that this shall make internet easier to those who're more comfortable interacting in the Indian national language. The new feature lets user scribble on his touchscreen a Hindi word, characters of which shall be recognized by Google on its own.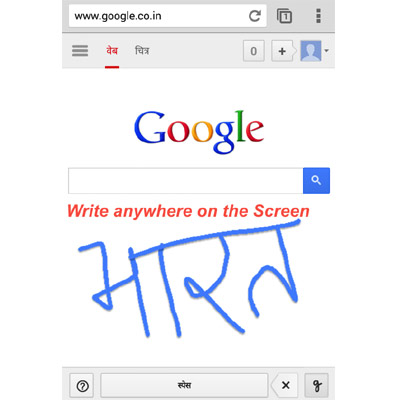 This is what Google India blog mentioned about the feature-
We believe you should be able to use the internet in Hindi as easily as you read and write today. No matter what kind of handwriting you have, Google can help you find exactly what you're looking for — so here's to Handwrite in Hindi, we hope you have as much fun using it as we did creating it!
This is a picture poster by IBN that tells you how to setup this handwriting feature-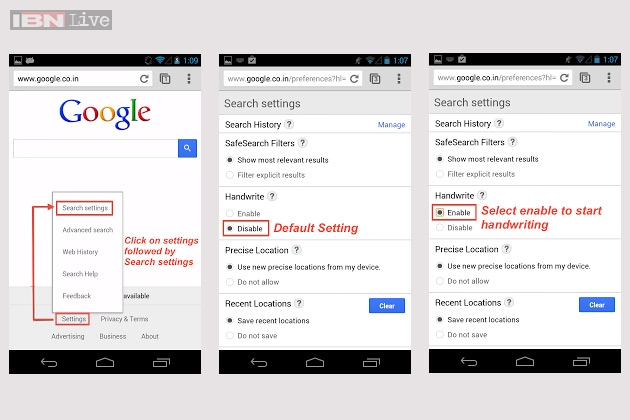 Tablet using people shall find the 'Search Settings' option in the gear icon. Add 'Hindi' as a language in search results. Once you've saved the above mentioned settings, you'll need to refresh the page once, only then will the changes reflect on-screen. Best thing is, you can write ANYWHERE on the screen, and Google shall match the characters with known pre-defined Hindi terms. For now, the handwrite feature is currently available for Android 2.3+ phones, Android 4.0+ tablets and iOS5+ devices.
Check this video to know more about the handwriting feature-