If the search giant's latest "Goals" tool, which the company incorporated in its free Android Google Calendar app, is any indication, then people who usually find themselves comfortably safe behind a pile of lame excuses are in serious trouble. Made available on both iOS and Android devices, the Goals tool employs artificial intelligence to let the software work for you in chalking out free time where you can squeeze your workouts, music sessions, foreign language sessions, or anything that you might want to pursue but you're not owing to your laziness.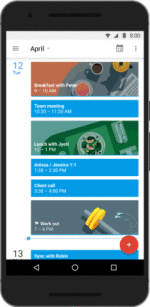 Jyoti Ramnath, Google Product Manager, in a blog post mentioned that achieving goals can get really hard at times, and it's for this particular reason that they've introduced Goals in Google Calendar. People get to add personal goals such as reading more books or going out for a jog, and then the Google Calendar studies your schedule for optimal time where they can fit in those activities. In case of conflicting times, the Google Calendar will automatically reschedule time for personal goals, and is programmed in such a way that it'll auto-reschedule activities if users prefer to put them off.
The more frequently you use the Goals tool in Calendar, the more advantage you derive from the Goal tool as it gets really better at picking time for yourself. Ramnath believes that calendars should assist a user in making most of his/her time, and not be a mere date/event tracking tool.
You'll get a better idea of Goals in Google Calendar from the video below-