Philosophy of Tragic Love Stories
True tragic love is selfish, self-centric, honest, fearless and magical. It has three stages 1) Love, 2) Separation, 3)Immortality by death. In between these stages there are moments of innocent adoration, ignorance of consequential reality and blind faith in the relationship. These are all the quintessential elements of every doomed love story ever written, most notably Romeo and Juliet, Tristan and Isolde etc. Such love stories filled with dramatic plot and sub plots have been the fascination of many filmmakers, novelists and artists all over the world and with these elements every artist has created their own version of   condemned love stories whose characters live longer in the memories of viewers than in the story.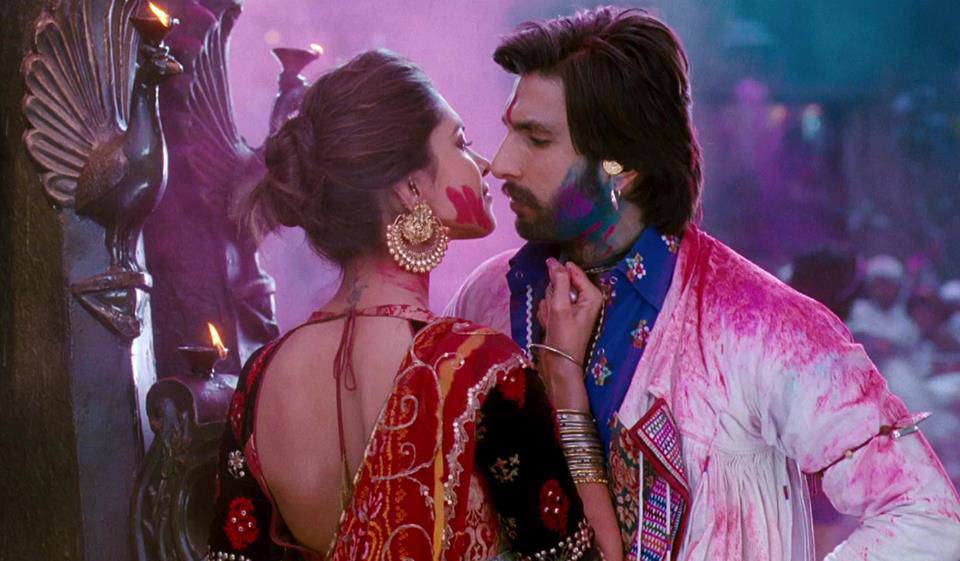 Ram-Leela is a story woven with similar elements (Inspired from Romeo and Juliet) is a master story teller's tribute to the undying and evergreen genre.
Story
Ram and Leela are born in a town where people use bullets more than words, separated by clans who have been trying to outfight each other since time immemorial and amidst all the gunfire, politics, beer bottles flying around, star crossed lovers  Ram and Leela fall for each other ignoring the consequences of their actions and soon decide to elope to get married and settled in a land far away from all the mess around but things don't go as planned and they find themselves deeper in the clan war than before. Blood for blood is what both the clans believe in and with every drop shed the hope for Ram-Leela's future become grimmer. Drowned in innocence and ignorance they decide to ditch their clans and settle far away and when they do it, things become worse and the real RAM-LEELA begins.
Sucked into the family war they soon find each other on the other side of the battle field where they must win the honour back for their family and leave the other in dust.
Whether they fight each other to death or end up in each other's arms is what you have to find out.
 Script
The script is an imaginative take on the Classic and Shakespeare would have been proud to see such brilliant characters etched out for his story. It is an unexpected take on Romeo and Juliet and mixes tragedy and comedy fluently to bring out such myriad colours of love, passion and violence among the characters.
Music
The music of the movie is soulful and every song adds a texture to the story. The songs keep playing in your mind long after you leave the theatre. One can feel the artistic beat of S.L.B in every song. The songs hadn't clicked with me the first time I listened to them but after watching the movie, they're going in my collection on the I-pod.
Performances
The show belongs to the lead pair Ranveer, Deepika who are extremely convincing as RAM and LEELA and deliver a power packed and stimulating performance but the supporting cast is also equally brilliant, especially Supriya Pathak who with her menacing eyes portrays a brutal and dark  Leader of the Clan. Riccha Chaddha as Leelas sister-in-law is also terrific and does a fantastic job.
Gulshan Devaiah also did a fine job but I had higher expectations from him. He felt a little overshadowed by the other experienced actors around him.
Direction
Sanjay Leela Bhansali took a story which has been told a zillion times and moulded it according to his tastes and created a wonderful story with brilliant characters .His interpretation of the Classic story is a visual treat for a viewers for it has some exquisitely designed sequences with amazing art direction and brilliant acting .
It's  not his best work so far but one of his best works after Devdas, Black, HDDCS. There are certain shortcomings but there is so much passion in his work that you tend to ignore minor glitches like too many back to back songs, overt use of unnecessary cuss words and long runtime .
Final Word
There is not one but multiple reasons to watch Ram-Leela, its scintillating music, brilliant performances, craftily written characters and the signature of a master on script, music editing and direction. This is one love story I loved after a really long time.
If you love passionate love stories this one's a treat for you. Shakespeare, for one, would have been happy with this adaptation.
Overall Rating- 3.5/5