Social Networking giant Facebook Inc. is testing a 'BUY' button that allows its users to make purchases directly from their news feeds without clicking away to the merchants' site. This feature enables user to complete entire product purchase transaction within Facebook. With 1.2 Billion active users, this sales feature has a lot of potential to help businesses drive their sales. Looking from the buyers side, the only concern seemed is of safety, how safe they will feel entering their Credit Card information on a social networking site? To which Facebook assured that the feature will have strict privacy settings and will not distribute or share anyone's credit or debit card information. Users will also have the option to save their payment data for future transactions.
For now Facebook is not charging for small and medium size businesses as it's a test run. But eventually the company will charge a portion of the revenue in exchange for processing payment and improving conversion rates for products sold with the Buy button. It could also use the purchases to prove return on investment to advertisers, encouraging them to buy bigger campaigns. Collecting credit card info could also help Facebook with other commerce-related initiatives.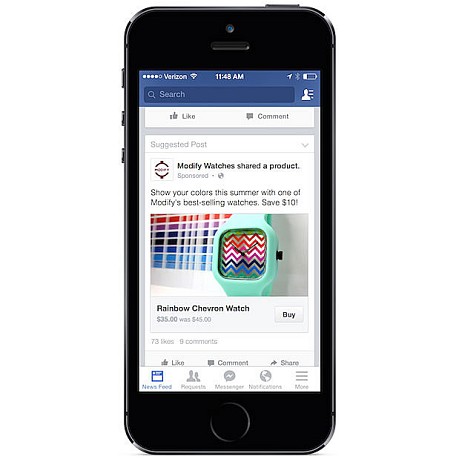 This is not the first time for Facebook to enter the e-commerce, the company made several forays in to it over the years. It tried a Pinterest-style Collections feature with 'Buy' buttons that led off-site back in 2012. Last year, it also enabled on-site payments to some charities by introducing a Donate button. And recently, it's been testing an "Auto-Fill with Facebook" – a feature that automatically enters your payment details when you're making a purchase in a third-party e-commerce app. And this time, purchase of physical goods.
If we take a look at the user interface of this 'Buy' button, it is located to the right side down the news feed and clicking on to it will result in a pop-up that will prompt users to confirm payment and shipping info, then complete the purchase, and all without leaving Facebook. Recently, Twitter also surfaced this option on their page.
"We've built this feature with privacy in mind, and have taken steps to help make the payment experience safe and secure. None of the credit or debit card information people share with Facebook when completing a transaction will be shared with other advertisers, and people can select whether or not they'd like to save payment information for future purchases,''  said the company officials stating their clear view in terms of safety.
With this big user base, the new option will definitely be a pain for leading e-commerce portal like Amazon. The 'Buy' button is effectively saving a lot of time and comforting its users. They don't have to leave their beloved social networking site, and you don't need to re-enter your details for every different seller if you've saved it on Facebook. Just need to click on 'Buy', confirm once and done, the product is ready to knock at your door.