Cast: Emraan Hashmi, Konkona Sen Sharma, Huma Qureshi, Kalki Koechlin Directed By: Kannan Iyer Overall Rating: 3/5
Witchcraft and wizardry spell magic if the director uses his wand well, and with Ek Thi Daayan, Kannan Iyer offers a novel and arresting supernatural thriller that does qualify as an eerie affair.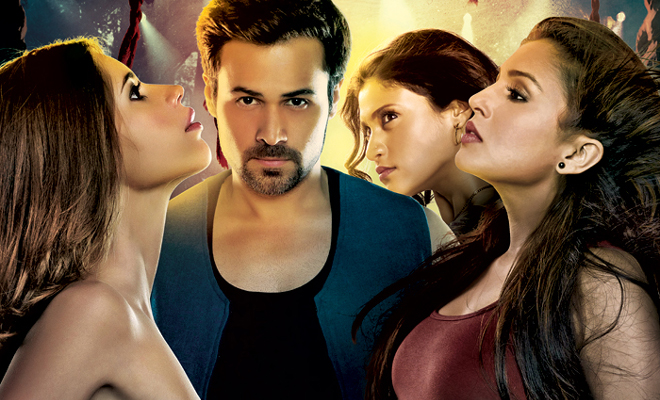 Bobo (Emraan Hashmi) is India's prime magician, whose recurring hallucinations force him to take psychiatric help. Flashback reveals a young Bobo, who's grown up reading about witches and witchcraft and nurtures a fascination for the subject. Fascination borders into obsession, and when his widowed father brings home a step-mom Diana (Konkona), he considers her a daayan whose life lies in her long hair, and a young imaginative mind functions overtime in working out the other magical details of her and narrating the same to his sister Misha, who takes in every word her brother has to say. When years later an attractive Lisa Dutt (Kalki Koechlin) stumbles in his and his girlfriend's (Huma's) life, Bobo stands firm that she's a daayan. Whether it's all just mad mind-tricks, or whether the witch does exist?
The first half of the film is wonderful- with the cinematography and the narrative being simply immaculate. The script looks as if borrowed from several similar black-magic ventures, and ornaments several horror film cliches. It's the second half that flummoxes the viewer, and the script seems too predictable and draggy post-interval. The climax lets down again, but anyways, the overall ambition was worth a watch. Emraan Hashmi heavyweights the entire film with his wonderful act, and this has to be his best performance ever. Also, Konkana paints her character some commendable colors, and given the shades of her talent, she did sketch a great picture. Kalki and Huma are awesome in their bits. Pavan Malhotra fares well. Also Vishesh, who plays the young Bobo in the film, is splendid. For a debut, Kannan chose an unconventional subject, but the rendering of the same doesn't look a newbie's work. Special kudos to him for that. Also, the background musical score deserves a special pat in the back, for they succeed in amplifying the overall wickedness. But yes, editing scissors on the gap-filling songs would've been welcome.
This film deserves a see not for its path-breaking story, but for the way in which the concept was handled, and of course, for the brilliant performances.