Voices Of: Nicolas Cage, Ryan Reynolds, Catherine Keener, Emma Stone Directed By: Kirk De Micco, Chris Sanders Overall Rating: 3.5/5
Dreamworks Animation and 20th Century Fox commence their collaboration with a new prehistoric animation centering a caveman's family underlines the motto "Never not be afraid" and drags along with it the fear of the unknown. The Croods plays it witty, though not smart, and has enough modern-day gags to lace up its pre-historic era.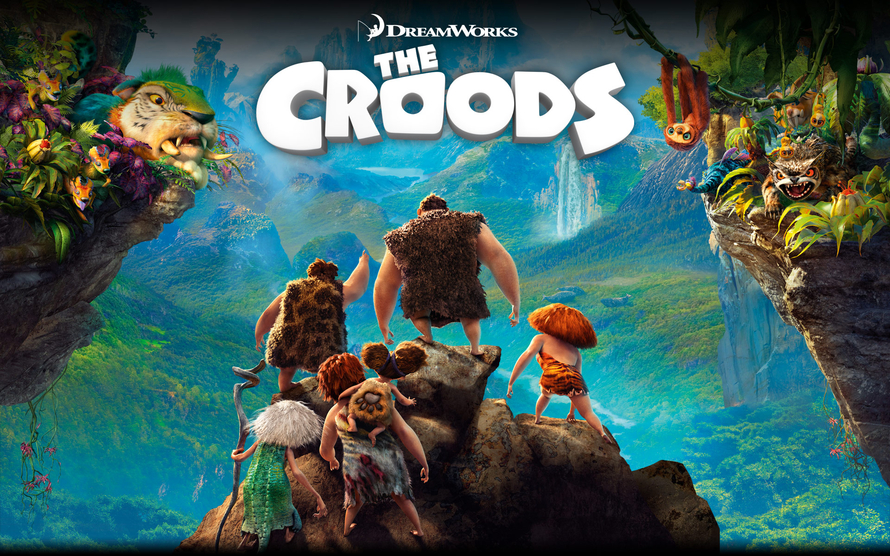 Grug (Nicolas Cage) is an overprotective head of a Neanderthal family comprising his wife Ugga (Catherine Keener), son Thunk (Clark Duke),  a mother-in-law (Cloris Leachman), an adventurous rebel of a daughter Eep (Emma Stone) and a toddling girl Sandy. The family hunts by the day, and comes crawling back in to their cave home owing to the fear of imaginary monsters. Eep finds this routine suffocating, and wants to spread her curious little wings over a larger horizon, and while doing so one day meets Guy (Ryan Reynolds), an enterprising young chap who believes in dreams and innovations, and looks down at the cavemen for their ignorance- a standard modern guy. It takes him no time to wow the family by displaying his bloody awesome inventions- fire and footwear, but Grug still remains impassive towards these new developments. With clashing ideologies they both proceed on a journey that shall change their life forever. And hug is 'invented'. Whatever.
The opening extravaganza where the cavemen are shown playing a rugby-like game is brilliant, and so is the cinematic sequence showing numerous Piranha birds swarming for their meat. The script seems like accumulated leftovers from previously released family movies and offers no novelty. The story doesn't offer you laughs as such, but it's the technical aspect of the film that awes you. The colour-palette decorating the visuals is dazzling, mostly when the family is moving through the jungles. Nicolas Cage voicing Grug is awesome, and Ryan Reynolds does equal justice to his character Guy. Also, the few spiritual elements included in the film don't go overboard. Also, the romantic build-up between Eep and Guy is subtle, soft and emotionally rich.
The film offers harmless fun, and successfully appeals to the idiot and the intellectual alike. And just for the sake of the holy awesome CG, this prehistoric party is worth attending!