Eighteen Plus is wickedly desi, quirky laugh-out-loud work of short stories, and though debutant author Apurv Nagpal does not claim his book to be an erotica, the pages are significantly laden with titillating smirk combined with wry humored quick wit.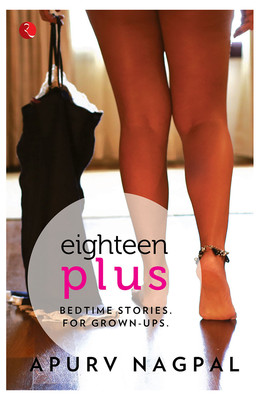 Many ingredients of fascinatingly humorous tales and naughty appraisals are triumphantly combined to unfold a fresh redolence of a perfect recipe for cool bold generation of today.
The book is sure to be enjoyed and adored by gen-next which is becoming more and more liberal in both thoughts and in its sexual expression and certainly describes well the  coming of age  in true sense as it  claims to be. It also attempts to shed a light at the way there has been a paradigm shift in how new generation handles and considers its liaisons. The book is nowhere inordinately salacious but is racy and colorful enough to make a really enchanting read. The stories are light and fun to read with an interesting writing style of prose.
Great package all in all , of entertainment, wit, intrigue and chuckle-some humor. Go for it if you need a quick fix of tasteful risqué amusement for your laid back lazy weekend.
Overall Rating: 3.5/5
You may purchase this book from Flipkart here:

About the Author:
A graduate from the Shri Ram College of Commerce and an MBA from IIM Ahmedabad, Apurv Nagpal has worked in the corporate world in various capacities for over twenty years. His interests, other than writing, include sports (he has seen the last four FIFA Soccer World Cups live), travel (he has been to all the seven continents and once nearly drove to the North Pole), wines, cocktails and cinema (he regularly reviews the latest movies on his blog.) His Twitter handle is @apurvnagpal.