Dum Laga Ke Haisha is the most fun I've had in a YRF release since Rocket Singh, and this claim is no exaggeration. The movie trailer was pretty jolly, and I was a bit concerned that it may have revealed the whole story. But I needn't have been, for even though it gives out pretty much what the film holds, there are many more finer moments sugar-seamed in this uncliched romantic venture that'll hold your heart and attention for a good one hour fifty minutes.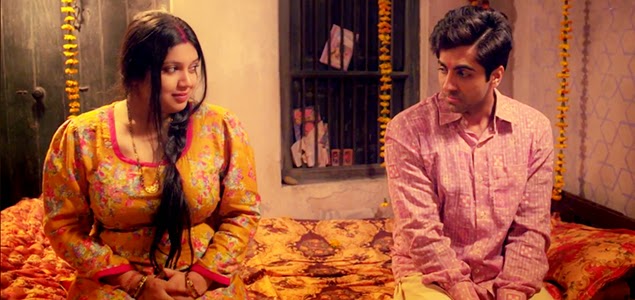 Arranged marriages earlier left little or no options for both people concerned, and this particular thread is pulled long enough to weave the script of Dum Laga Ke Haisha. Based in Haridwar, a 'hero-like' Prem Prakash (Ayushmann Khurrana) is married off to Sandhya (Bhumi Pednekar), who's more on the heavier side. Now Prem isn't educated and Sandhya's a teacher, and while she's totally heart-eyed over her unqualified husband, Prem isn't too keen on his relationship with this oversized sugarball embarrassment. Parents of both parties intervene but to no avail. And then comes along a contest that changes everything.
YRF did attempt grounded romance with Rab Ne Bana Di Jodi, but somehow the magic did not come out as sparkly bright as it does here. While the leading stars did well, the script and dialogues did not pack the much needed punch. The learnings from that fallen film seem to have made the production team smarter, for in their latest they have done away with all those elements which dulled the affair for the viewer, and overloaded the sweet-n-spicy stuff. Massy much.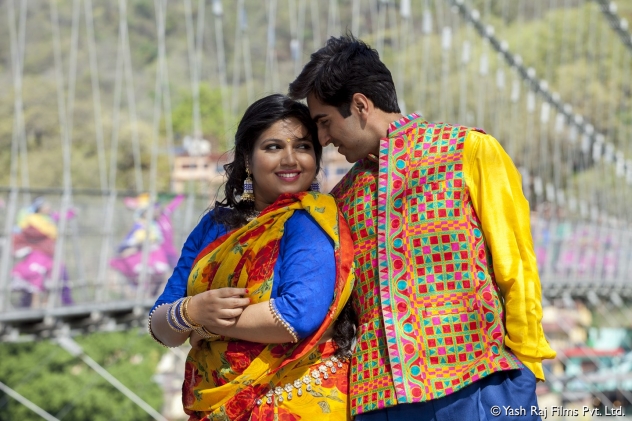 The lead actors have done good. Ayushmann has played his vulnerability card well. Bhumi owns every frame she finds herself in. And she's adorable! First wedding-night nervousness, those desperate strives to gain husband's acceptance, the hopeless anger when someone terms her moti, every single emotion has come out so sincere and real. She stands a good chance at bagging the Best Female Debutante this year. Quirk goes on the higher side with Sanjay Mishra and Seema Pahwa in play. These two make sure you crack up at the most unlikely instances. There are a few extras who add to the hilarity, like Prem's friend during his wedding. And there's a special cameo as well.
Nostalgia hits hard in the film's music, and it's only fitting that for a film based in the 90s, you bring back the music composer and singer who ruled the roost in that era. And (re)enter Anu Malik and Kumar Sanu, who've rendered songs apt for a Govinda groove session. There's a Papon number which is soulful. Even the film opens with the YRF logo with a Kumar Sanu hum, and not the usual Lata Mangeshkar vocals, and even that's refreshing.
Director Sharat Katariya has done a great job in playing it simple, yet keeping the entertainment quotient high. The film strikes out even more owing to its brilliant art design which features great detailing in the props employed and in the costumes, giving a uniform visual appearance to the film. Dialogues are good.
This is a film which effortlessly connects with the audience, and the scenes which unfold may pretty much be happening in and around your neighborhood. Do watch it for good humor, and for those huge scoops of love dished out.
Overall Rating : 3.5/5