I've always maintained that remakes should adhere to the original storyline if filmmakers can't better the same by adding to it or by snipping elements off it. Bollywood Drishyam, to a great extent, remains faithful to Jeetu Joseph's original, but it's the characters here who fail to derive the level of empathy the audience showered on Mohanlal and his family. But if you haven't seen the Malayalam film by the same name yet, rest assured, you are in for a treat.
I recently watched the Malayalam thriller on a friend's recommendation, and was blown away with how beautifully the film has been conceived. What I missed that time was an audience, which I received full house while viewing the Hindi adaptation of the film. Enjoying amidst their claps and whistles I discovered some WOW instances which I had failed to acknowledge earlier, and I simply took in and enjoyed what Nishikant Kamat served on-screen. He served it well enough, borrowing heavily from the original the camera angles and dialogues which constitute from some of the best scenes in the film. He did cut short the initial build-up that establishes the protagonist's standing in the society and his love for his family, but that doesn't take away the essence of the film.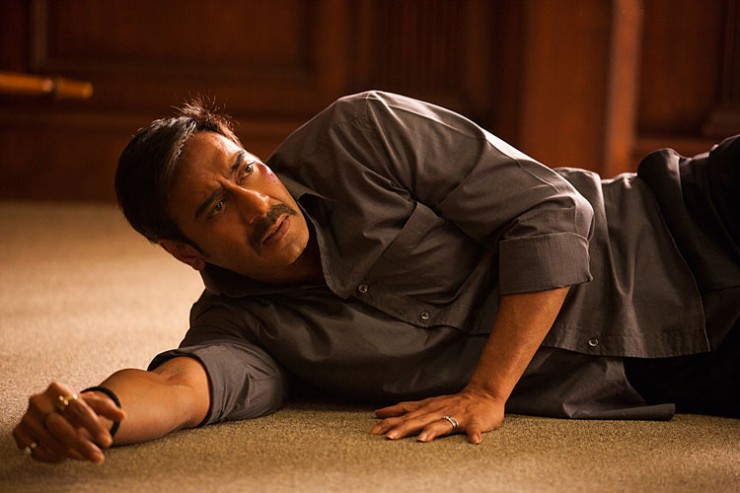 Vijay (Ajay Devgn) is an uneducated yet smart cable operator in a small Goan village, who's very fond of movies and who tries to make sense of what actually unfolds in those motion pictures. He not only takes note of what he watches, but makes it a point to implement his learning in real life as well. A tragedy strikes his family comprising his wife (Shriya Saran) and two daughters, and he relies on his learning from movies to create deceptive visuals which shall pull his family out of this mess. Does he succeed?
What clicked in the original Malayalam film was how exceptionally well Mohanlal was able to carry out the simpleton routine. He mumbled and fumbled his way through the film, and had several silly instances which made him even more adorable. Even his miserliness was so clear. Ajay on the other hand is much more assured of himself, and his penny-pinching is not that hard. He brings to life an individual who easily gives in to family demands, and that shall strike a chord with many. Tabu as the tough IG is superbly cast- her anger, frustration and hurt so wonderfully channelled. The best character in the movie is undoubtedly Kamlesh Sawant as the corrupt cop Gaitonde. And sweet is the girl playing Vijay's youngest daughter Anu. Rajat Kapoor as the empathising father is good.
The film really kicks off in the second half, while the first half sets the characters and premise of what's to follow. It's after Tabu gets on-board does the film starts delivering a truckload of chills and thrills.
The climax is the baap of all Bollywood climaxes, and it's ok if your jaw hangs loose upon witnessing it. Happened to most of us.
Overall Rating : 3.5/5