On November 14, 15-year-old Gayatri Ketharaman's winning Doodle will grace the homepage of popular search engine Google. Gayatri's doodle 'Sky's The Limit for Indian Women' won her this year's Doodle4Google contest. The competition is held annually for school students. Children across India submit their doodles based on that year's theme. Google then finalizes one as the doodle for its homepage to mark Children's day. According to Rajesh Anandan over 1.5 lakh kids sent their doodles to Google.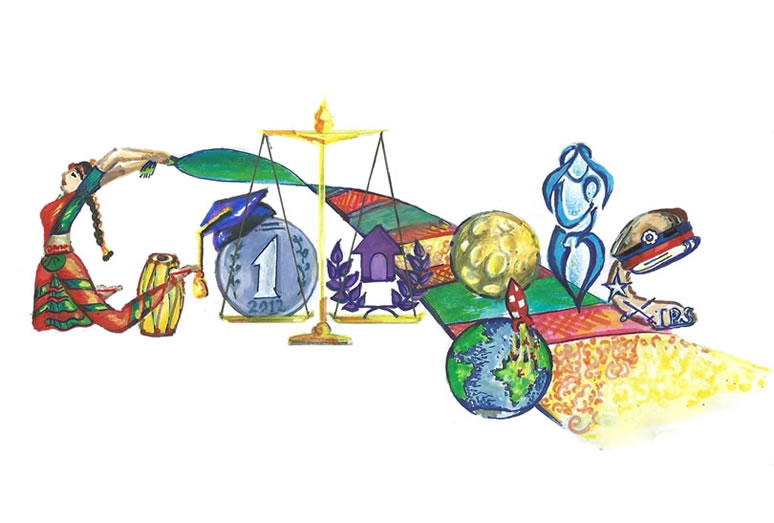 Gayatri, a standard 10 student at the Bishop's Co-Ed school in Pune has been sending her doodles to Google for the past four years. In fact one of her doodles based on the theme 'India's gift to the world' for 2011 was shortlisted. It didn't make it to the homepage that year. However this year, her doodle exhibiting the qualities of Indian women will adorn the homepage of google.co.in.
Speaking to TOI, Gayatri said- "It took me around a week to complete the doodle once I started working on it. But before that I spend several weeks thinking about the theme and how best I can represent the ideas I had in my mind about Indian women."
All letters of the word 'Google' are pictorially represented in various doodles that highlight the significance of a particular day. Going by the theme for this year's Doodle4Google, Gayatri drew a dancing woman in such a pose that she resembles the letter G, the two Os that follow are represented by a one rupee coin and a home with a leave on either side. The Os symbolize an Indian woman's ability to maintain the balance between and efficiently take care of work and home. The next G in the word has been formed using the moon and the earth to show that Indian women are ambitious and achievers. The mother within is represented by a woman holding a baby in the sketch L, showing her caring nature, while E dons a police hat symbolizing the various caps a woman wears to act tough and brave as the situation demands.
This year, Doodle4Google contest had three categories- for students from Class I to III, for students from class IV to VI and for students from class VII to X. The category 1 award was won by Binita Biswajeeta from Balasore and the category 3 was won by Akash Shetty from Mangalore. Google stated that it had shortlisted 12 finalists prior to deciding the winners. All of them shall be gifted a Chromebook along with other prizes.