Devi is an entity created by Gods themselves to fight the evil lord Bala, an entity that demanded Gods to sacrifice a part of themselves. Bala rises again, centuries later, and the Gods reincarnate Devi as a young woman Tara Mehta. After fighting Bala and wading off the evil, she defies gods and chooses to stay in Sitapur. Against her in these episodes is an apsara assassin named Kratha is hired to eliminate her, disreputable underworld dons who want to stake their claim on Sitapur, and an unknown super-powerful man who claims himself to be the 'specter of Armageddon'.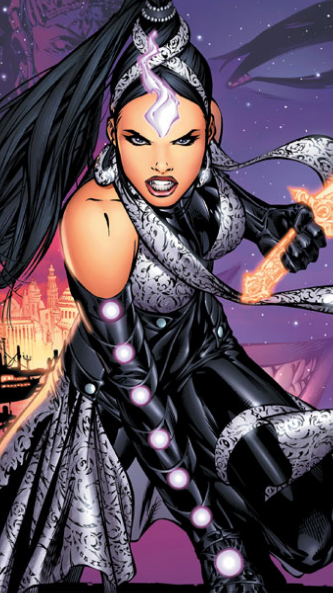 This is by far the best sketched volume in Devi's portfolio. The colors are impressively brighter when compared to the earlier two novellas, and the tone is pretty much the same. The way the female energy is projected in Devi in the last few pages, the interpretation is phenomenal. Inspector Rahul Singh doesn't have a substantial role here, but looks like he has lots of action in the forthcoming volumes. The bond forged between Kratha and Devi is something to be watched out for – holds promise. The plot has taken a really interesting turn here, and I'm highly anticipating how the following episodes shall unfold.
Shekhar Kapur's introduction sets the mood. Writer Saurav Mahapatra has effortlessly scaled the script from where it last ended. One thing that the Devi graphic novels have constantly managed to do is keep the readers engaged, and the writer scores well here. Complementing the writer is the beautiful artwork by Saumin Patel, Edison George and Caesar Rodriguez, which in turn were well colored by the equally talented hands of M Vishwanathan, R Gavaskar, N Sivakami and Saumin Patel. I personally enjoyed the sketches of the many policemen – their casual attitudes intact, of the underworld bigwigs, of the unknown super-powered man who hunts Devi, and lastly of the transformed Devi. The panels were again comic-book rectangular, maintaining the ease in reading.
This is one Indian super-heroine comic that progressively entertains. And we're glad for that.
Overall Rating: 4/5
You may buy the book from Flipkart here :