The import of water is well known, and many a steps have been undertaken to prevent the steeping issue of Indian water crisis. But, the authors of Thirsty Nation ask, is this enough? In their very in-depth research driven book, the authors have tried to expose our nation's impractical dependence on the monsoons as the primary water source, and how this dependency could prove damaging if no corrective measures are employed.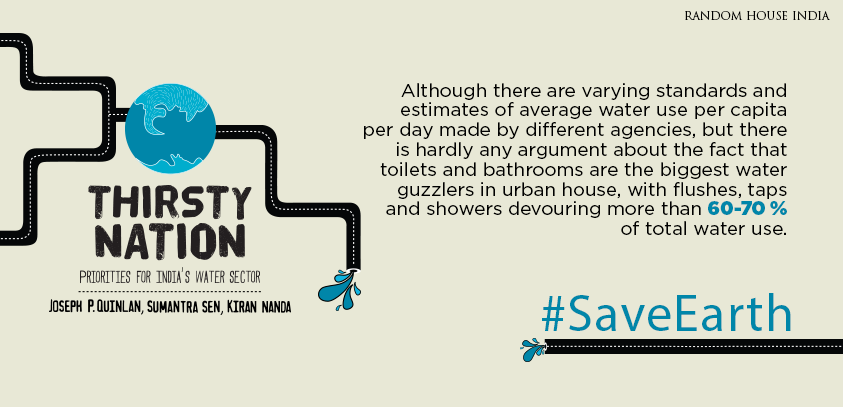 The book even explains the groundbreaking concept of virtual water and how its application could hugely boost the Indian water sector. Another concept it explains well is that of water footprint. With several facts and figures forming the spine of the many claims, several imminent issues are emphasized upon and exposed. The best water practices practiced by some Indian companies are detailed out for other corporate sectors to take a thread from and implement the same at their respective workplaces.
This book is recommended to all who interested in knowing about India's water crisis and the several measures one can undertake to avoid the same. The concepts in the book are explained very lucidly, and in great detail. It's hard to say whether this would appeal to all readers equally, but given its core message, this ought to be read once.
Overall Rating: 4/5
You may buy this book from Flipkart here :  

About the authors
Joseph P. Quinlan is the U.S. representative from the Economic Policy Committee, to the Organization of Economic Cooperation and Development in Paris for the U.S. Council for International Business. He is also an Advisory Board Member to the European Business Council, Washington D.C. Joseph has previously served as a consultant to the U. S. Department of State. He is also the Managing Director and the Chief Market Strategist of Bank of America, Global Wealth and Investment Management in New York. He has authored The Last Economic Superpower: The Retreat of Globalization, the End of American Dominance, and What We Can Do about It and The Transatlantic Economy 2008: Annual Survey of Jobs and Trade and Investment Between the United States and Europe (Transatlantic Economy: Annual Survey of Jobs, Trade & Investment) among other works.
Sumantra Sen serves at the advisory board at the Climate Bond Initiative, UK and Association for Sustainable & Responsible Investment (ASrIA), Hong Kong. He is also a member of the Environment & Energy Committee at Indian Merchants Chamber, Mumbai, India. Sen is the Founder & CEO at Responsible Investment Research Association.
Kiran Nanda is a Corporate Economic and Sustainability Consultant. He had previously served as the Director at Indian Merchants Chamber Economic Research & Training Foundation (IMC ERTF). Kiran had also served as Senior Economist in Tata Economics and Statistics Department, with visionaries like J. R. D. Tata himself and Nani Palkhivala.