Captain Cool: The MS Dhoni Story talks about the rise and rise of the cricketer from someone to THE ONE, and that too in a match report-like narrative that perfectly tributes Indian cricket. Authored by veteran sports journalist Gulu Ezekiel, this is a book that's meant to adorn the shelves of cricket lovers, and of course, Dhoni's fans.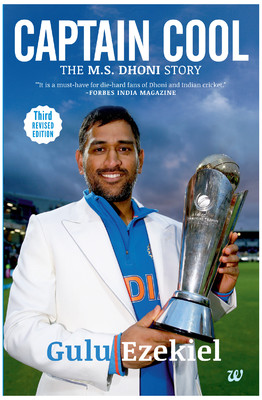 The first two chapters of the book shall arrest your attention completely. Titled 'Early Years' and 'First Class Cricket', these chapters provide insight to the kind of cricketer Dhoni was in his early years. He wasn't a natural, and was rejected by the Railways Ranji Trophy team. His passion for cricket made him play for Bihar's Ranji team, and that was very difficult. From there he slogged out for Bihar, Jharkhand and East Zone, and statistician Mohandas Menon has made these segments interesting by giving in the figures Dhoni had registered while playing in the domestic circuit. Come 2001, and Dhoni gets his first job as a ticket collector in Kharagpur, and it's here where he developed his own batting technique with a tennis ball over the 18-yard pitch- a successful anti-york technique that he employs even today.
While the first half of the book is immensely enjoyable for the man's sensational rise, the second half, where most of his recent matches have been insightfully detailed, is a drag. It may become interesting to readers after some years, but not for now. Other feature in the book that add to the interest value include some photographs of the cricketer, and while most of them are available online, there are a few gems that could be found only in this book. I wonder why they included the appendix with all the stats, as they change with every single match, but anyways.
This is a good book celebrating the coolest and the most successful Indian Cricket captain ever, and fans may like to lay their hands on it.
Overall Rating: 3/5
You may buy it from Flipkart here: